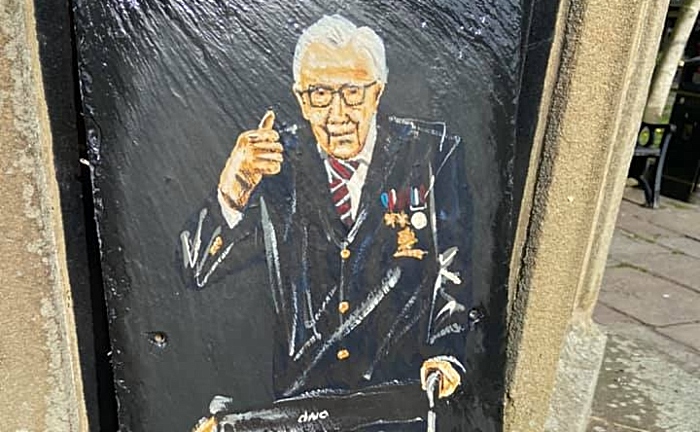 This stunning painting of national hero "Captain Tom" was left on display in Nantwich town square today.
The painting is a tribute to the incredible 99-year-old who single-handedly raise millions of pounds for NHS charities.
Tom Moore, an army veteran, has been hailed a hero for raising more than £28 million by walking 100 laps of his garden before his 100th birthday.
All the money raised is going to charities to help NHS key workers battling on the frontline of the COVID-19 crisis.
People walking in Nantwich town square today have been wowed by the painting, placed next to the town's War Memorial.
Lizz Cawley said: "It's just signed T Denton in the bottom corner, no idea where it came from but was only placed there today (April 23).
"It's beautiful. I loved seeing it, fitting tribute."
And fellow resident Pauline Davies added: "It's been painted on a piece of slate, it is very good but I don't know who has done it.
"I just hope no one takes it for a walk."
The artist is Tony Denton, who wanted to deliver a present to the town on St George's Day. Here he is delivering it yesterday in the very quiet town centre!
He said: "My inspiration behind painting this piece of art was selflessness and good old British spirit.
"I felt so inspired by Captain Tom's sheer selflessness and tenacity to give back during these strange times that I felt I had to give back myself in any way that I could.
"I have donated a number of paintings during these awful times to raise money for our NHS and I felt Nantwich as my newly adopted home would appreciate this piece of Art as everyone here has been so lovely and welcoming.
"Captain Tom inspired me and honestly cheered me up, and I hope my piece of art in honour of him, St George's day and his 100th birthday and all he has done for this country continues to raise spirits and inspires others to remain selfless, giving, kind and accepting."
Captain Tom turns 100 on April 30, but has already received more than 65,000 birthday cards from around the world.
The painting is not the only example of artwork popping up in the town in tribute to our NHS key workers fighting the coronavirus.
This NHS nurse mural appeared on a building on Beam Street, above iWear and Johnsons, prompting speculation of a Nantwich "Banksy"!
And stores like White Ribbon have been paying tribute on their shop frontage while they remain closed during the lockdown.
*Do you know the creator – T Denton – of the Captain Tom painting? Get in touch! Email [email protected]
(Pics courtesy of Nantwich News readers)