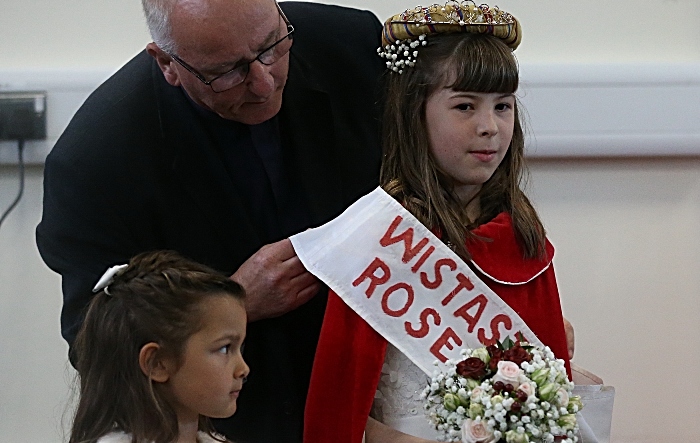 The current Wistaston Rose Queen and her attendant are to continue their roles into 2021 after the village fete was cancelled by COVID-19 pandemic, writes Jonathan White.
The annual Wistaston Village Fete, organised by Wistaston Community Council, was due to take place on Saturday (June 20).
The fete usually includes a procession, Rose Queen crowning, children's fancy dress competition, vehicle display, live performances, refreshments, and charity stalls.
Despite the cancellation, current Rose Queen Charlotte Shaw and her attendant Lucia Kemp have agreed to continue their roles for a second year until the Wistaston Village Fete in 2021.
Charlotte and Lucia will continue fundraising towards their chosen charity: Parkinson's UK and the local Crewe & District Branch of Parkinson's UK.
Charlotte Shaw, Wistaston Rose Queen, said: "I have really enjoyed my year as Rose Queen and fundraising with my attendant this year.
"It has been great to have the opportunity to represent the junior church and fund raise for my chosen charities, Parkinson's UK and the local Parkinson's UK Crewe & District Branch.
"As well as fundraising I was proud to represent the Junior Church at several local events including the Duck Race, an art workshop at Richmond Village and Reverend Ken's garden party in support of Diabetes UK.
"During lockdown I have tried to keep going with my fundraising by selling packs of flamingo cards – so far I have raised £1,100 for the charities.
"Being Rose Queen has helped me to build my confidence up. I used to be nervous, but this has given me the chance to stand up and talk in front of large groups of people.
"Once again, thank you all for your support."
Rev Mike Turnbull, St Mary's Church, Wistaston, said: "I am pleased that Charlotte and Lucia are continuing for another year and that they will be able to finish their time as Rose Queen and Attendant properly at the 2021 Wistaston Village Fete."
Ian Gould, of Wistaston Community Council, said: "Back at the beginning of May we decided to cancel Wistaston Village Fete because of Covid-19.
"This probably didn't come as a surprise, but we left it as long as possible to make the decision.
"It seemed unlikely that it would have been permitted and was probably not a good idea anyway.
"We certainly needed to avoid unnecessary work and give ample notice to stall holders and performers."
For further information relating to St Mary's Church, Wistaston visit: https://www.facebook.com/stmaryandstluke/
The church can also be contacted by email [email protected] and telephone 01270 567119.