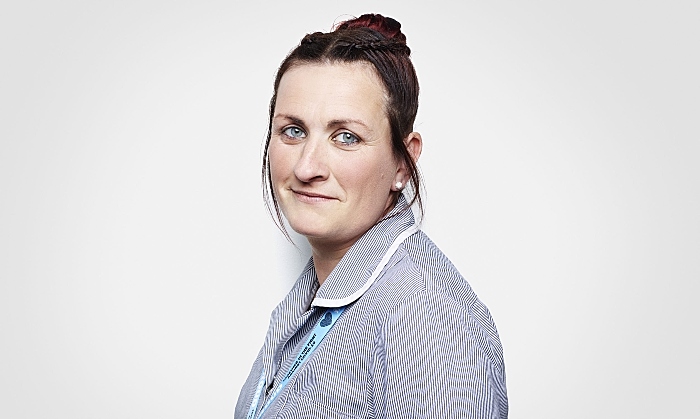 A powerful portrait of a cleaner from Leighton Hospital who has served on the front line throughout the coronavirus pandemic has been captured by acclaimed photographer Rankin.
Laura Arrowsmith, from Crewe, was selected to be photographed for the collection unveiled today to celebrate the NHS' birthday.
It will be showcased at local bus stops, roadside billboards as well as iconic pedestrian areas including the world-famous Piccadilly Lights in central London this week to mark the 72nd anniversary of the NHS.
In a mark of respect and thanks to the NHS, the renowned photographer, who has previously shot the Rolling Stones, Kate Moss and the Queen, offered to take portraits of 12 people across the country playing a vital role in the NHS response to COVID-19.
The participants have been photographed unhidden by PPE to reveal the people behind the masks and celebrate the individuals they are.
British photographer, director and cultural provocateur Rankin said: "As the coronavirus pandemic began to unfold, I was moved by the incredible efforts of people across the NHS and I wanted to document who they are and their role in fighting this disease.
"Taking a portrait is a unique and intimate experience, even with social distancing in place.
"Everyone had their own inspiring story which to them was just doing their job.
"I hope these images portray the resilience and courage they show every day in the face of real adversity."
Laura, who works as a domestic assistant at Mid Cheshire Hospitals NHS Foundation Trust, said: "I felt so proud to have my photograph taken on behalf of Leighton Hospital, and to represent Crewe.
"We are one big team here and everyone is playing their part and I feel I'm just doing my job as best I can.
"The night before I was like a kid on Christmas Eve and when I was there it was a real wow moment."
Sir Simon Stevens, NHS Chief Executive, said: "This has been the most challenging year in the NHS's history, with our amazing staff providing care to almost 100,000 hospitalised Covid patients, and many more in the community.
"Nurses, doctors, physios, pharmacists, cleaners and countless others have pulled together, bolstered by thousands of former NHS staff who came back to help, alongside a new generation of students who stepped up.
"As we approach the NHS's anniversary, these striking portraits pay tribute to all NHS staff and their extraordinary dedication.
"On July 5 we also want to say thank you to those from all walks of life who have played their part in helping the NHS and our communities deal with this unprecedented health emergency."
Alongside the portrait, Laura has shared her own personal story from the frontline, providing a touching insight into the lives of people who are battling the pandemic and saving lives.
All portraits are being donated by Rankin to the NHS as an ongoing legacy for years to come. Advertising space to display the portraits has also been donated.
The full selection of portraits and their stories can be found here: www.england.nhs.uk/rankin
Laura's story
"I'm pleased, more than anything, that as part of my job I can be a friendly face for patients staying in the hospital.
"Growing up in Crewe made me realise the importance of playing a part in my community.
"In this situation we can't allow as many visitors and not everyone has the technology to keep in touch with loved ones, so I try to help by bringing patients a little piece of the outside world.
"I've been cycling a lot during the pandemic, so I get out on my bike and whizz around to pick things up for patients – even if it's just a picture to have by their bed.
"It means so much for friends and family to feel close, even when they can't be.
"I've always liked to talk to the patients and find out more about them. I'll always remember a mum of two who was on the COVID ward.
"She didn't want her kids to see her looking so unwell. I've got two sons myself, and I could only imagine how she felt.
"So, I brought their photos and cards to her instead.
"After she became better, she said to me that seeing their faces helped her survive her hardest days, giving her something to live for.
"We've sadly lost a dear colleague to coronavirus at Leighton.
"Brian was a porter, who had been working there for years.
"I remember walking onto the ward one day, seeing him and saying, 'Brian, what are you doing up that end?'.
"We still managed to share a joke and a smile together, but it was really hard.
"After he passed, the funeral directors brought the car around and we all stood out for him and gathered memories to share with his wife.
"Our team has always been so great to one another, but Brian passing has made us closer than ever.
"It sounds silly but after a hard day, it's TikTok that gets me laughing and smiling.
"I go on there, do a fun video for 15 minutes, and then I come off and think, 'Right, I better get into parenting mode, do the tea, do the housework and look after my kids now.' But that little bit of fun really keeps me going."