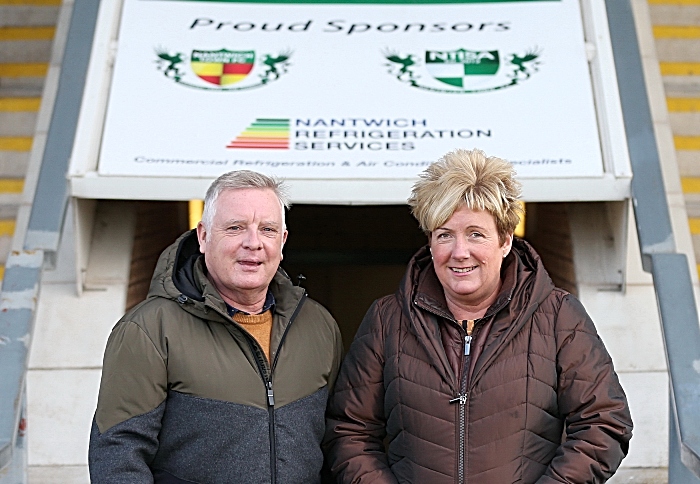 Nantwich Town have unveiled a new sponsor in local company Nantwich Refrigeration Services.
The firm is now sponsoring the Man of the Match (MOTM) award for the rest of the 2020-21 season.
Tim and Tracey Bowker, who run Nantwich Refrigeration Services, are both loyal fans of the Dabbers.
The MOTM will be presented with a bottle of sparkling wine after the game in the bar area and a Thank You from NRS for their outstanding performance on the pitch.
Tim said: "We are incredibly pleased to work with the board and associates of Nantwich Town Football Club and I look forward to seeing how this season plays out. Up the Dabbers!"
The business is also one of many local firms listed on the Nantwich News Directory.
The first player to pick up the MOTM award from Nantwich Refrigeration Services was Callum Saunders in a 3 – 0 Win over Stalybridge Celtic at the first Home game of the season.
As well as MOTM, Nantwich Refrigeration Services will be choosing a fan of the match, a "Dabber of the Day" (DOTD) each week.
They want to reward a fan or associate of the club who has gone an extra mile and has added, improved or contributed to the atmosphere or running of the match/matchday.
The fan selected each week will receive a bottle of beer as a Thank You from NRS.
A Club spokesman said: "We are are incredibly grateful to Tim and Tracey Bowker for taking this opportunity as hardcore Dabbers fans.
"It has been an amazing gesture from both and Nantwich Refrigeration Services look forward to picking the star player ever week for every home game of the season."
(Photo courtesy of Jonathan White)