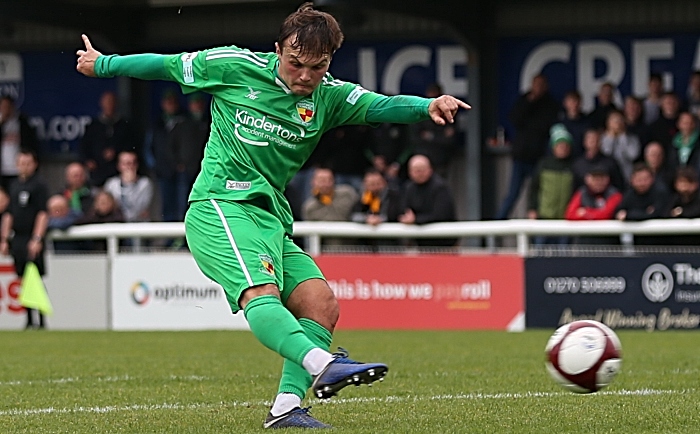 Nantwich's FA Cup journey came to a disappointing end as they fell to a 4-1 defeat to Marine at the Marine Travel Arena, writes Liam Price.
The hosts got off to the perfect start through Josh Hmami.
The midfielder, who was sent off in the meeting between the two sides in pre-season, struck a wonderful free kick from about 25 yards out after four minutes.
His dead ball prowess was known before the game, and the Dabbers initially tried to combat this by putting a man on both posts.
However, this encouraged Marine to push their line up towards Greg Hall as they would all be onside.
So the plan was abandoned, and Hmami promptly curled right into the top left postage stamp, even with a player on the line it would have been difficult to stop.
Sean Cooke (pictured) tried to respond for Nantwich, hitting straight at Marine goalkeeper Bayleigh Passant, and later having a cutback well cut out as it threatened to find Callum Saunders in a good position.
The Dabbers' efforts to get an equaliser were dealt a blow just before the half hour, when Joe Malkin was forced off with an injury, Luke Walsh came on to replace him.
Prince Haywood was booked for a rash challenge eight minutes before the break, before James Barrigan had another attempt from a free kick that was much easier for Hall.
Saunders had the best Nantwich chance of the half, making a near post run and flicking a Walsh cross over the crossbar, it was a hard chance but he may have felt he could do better, as Marine went into half-time with that one-goal lead.
The Dabbers started the second half the stronger team, Saunders broke into the Marine box but was well eased off the ball.
There were a couple of nervy moments, Hall misplaced a throw out and found a Marine player but quickly collected again.
Later, a Marine player went round Hall but Ben Harrison was well-placed to clear the tame effort off the line.
Nantwich were conceding these chances as a product of them committing more players to the attack, and eventually this paid off.
First, Mike Koral shot straight at Passant from a Troy Bourne cross, the full-back to full-back combination nearly working perfectly.
The equaliser arrived just before the hour mark, a long ball through saw Passant come out and challenge with Walsh as he tried to claim, he lost control of the ball and Cooke was on hand to poke in.
Just as it looked as the momentum was swinging the Dabbers' way, Marine retook the lead.
Only two minutes after levelling, sub Neil Kengni charged down the right, his pass inside found Hmami, and he found the corner again with a low sliced effort just out of Hall's reach.
Bourne might have made it 2-2 only a couple of minutes after, missing the flight of the ball from a Cooke free kick.
The decisive passage came in the 67th minute.
Haywood, on a yellow card from the first half, suffered the proverbial 'rush of blood to the head', charging in to another mistimed challenge and leaving the referee no choice but to send him off.
Then, from the resulting free-kick, Marine added the killer third goal.
Anthony Miley finished from point blank range to delight the home crowd as they sensed the next round.
The ten men kept trying, and they did create some chances before the end of the game.
Three came in the space of a couple of minutes, first a snapshot from Walsh was well tipped over by Passant.
Then, the Dabbers' familiar low corner tactic nearly came off again, Cooke sweeping towards goal but Passant again was alert to push over.
Another corner, then, and this time Ben Harrison met it with a free header which he couldn't keep down, arguably the best chance of the lot and confirming that this just wouldn't be Nantwich's night.
Further punishment came five minutes from time, as Miley again got there first from a Marine corner to make it four and send them through to the Fourth Qualifying Round.
A night to forget for the Dabbers, but with league fixtures coming thick and fast there is not much time to dwell on it, starting with this Saturday's away trip to Scarborough.
Nantwich Town: Hall, Koral, Hughes, Stair, Bourne, Harrison, Lawrie, Haywood, Malkin (Walsh, 29), Cooke, Saunders. Subs not used: Webb, Stair, Parker, Jones, Hawkins