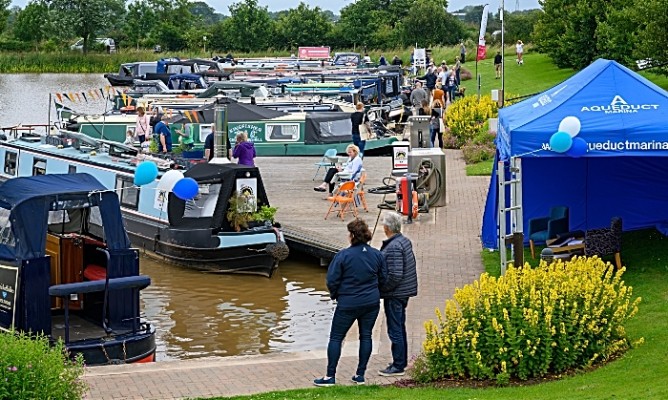 Aqueduct Marina at Church Minshull celebrated its 10th anniversary by holding its very own boat show!
The event, attended by 800 visitors, also saw the business launch a new logo.
It featured 30 exhibitors from sectors including boat builders, boat share businesses and manufacturers and retailers of equipment such as solar panels and boat chandlery and equipment.
Exhibitors reflected the aim of appealing to the inland waterway community, and those thinking of becoming part of it.
Aqueduct team were on hand to provide advice and help with anything from boat buying to finding a mooring.
Boats were undoubtedly the focus with new boats on show from Knights Narrowboats, Elton Moss boat builders and Breyzal Boats.
And for those more interested in used craft, 15 narrowboats were on display in the brokerage section.
The day was rounded off by a performance from renowned Elvis Presley tribute act pure Presley in the main marquee.
Robert Parton, managing director of Aqueduct Marina, said: "I would like to thank everyone who attended the show, either as an exhibitor or customer, as in doing so you have supported this growing event.
"I'd also like to thank our staff, who worked hard to put on the show.
"We look forward to seeing every-one again at next year's Aqueduct Boat show, or beforehand if, between us, we have persuaded a few visitors to go ahead and join the inland boating community."
More than £400 raised during the show will go to the British Heart Foundation, Aqueduct Marina's chosen charity for this year.