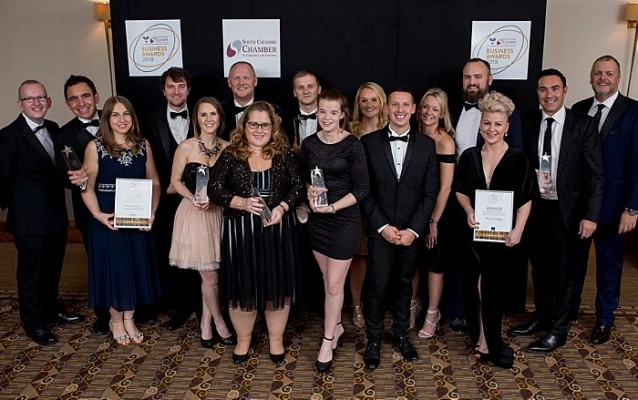 Entries have started to roll into the South Cheshire Chamber Business Awards 2019 less than a month after their official launch.
The Chamber's 23rd annual event looks set to be a success at Crewe Hall on November 22 with interest already registered and all categories now backed by sponsors.
With the deadline for entries set for noon on September 27, organisers say now is the time to get in the running.
Entry is free and offers marketing opportunities for South Cheshire businesses of all sizes.
And to support hopefuls in their bid in the Oscars-style ceremony, the Chamber is staging workshops offering tips on 'How to complete an award-winning entry' on September 3.
Chamber Chief Executive Paul Colman said: "Already there's a great start to our annual awards and a generous response from companies and organisations which have come forward as sponsors.
"Now we urge businesses trading in South Cheshire to celebrate their success by entering the Awards which offer fantastic prestige and publicity.
"There's also an opportunity to nominate and give recognition to a client or supplier."
The long-running awards celebrate all that is great and good about the South Cheshire business community.
Enterprising and inspirational businesses and individuals have been recognised every year by the Chamber since 1986.
Start-up businesses and 'one-man bands' have grown to become large scale employers and others have become global success stories, flying the flag for the area's quality products and services.
Paul added: "The awards play an important role in celebrating achievement and inspiring others.
"The Chamber has been immensely proud to see its winners go from strength to strength over the years."
Backing the Awards this year are Ambassador of the Year, Cheshire East Council, Apprentice of the Year, Reaseheath College, Business of the Year (under 25 employees) Hibberts, Business of the Year (25 plus employees), Cheshire College, South & West and Contribution to the Community, Bentley Motors, supported by Cheshire Connect.
Others are Employer of the Year, Assurant and Excellence in Customer Service, 1825 Financial Planning, Start-Up Business of the Year, South Cheshire Development Agency and Young Leader of the Future, KPI Recruiting.
Entrants are asked about their achievements, how they attract new business, what makes their company different and any obstacles or industry issues they have overcome.
Judges, drawn from sponsor organisations, will then announce their finalists on October 7.
Win or lose, the black tie ceremony is a night to remember in itself and for those who don't make it onto the winners' podium, there are Highly Commended certificates.
For more information on how to enter call the Chamber on 01270 504700 or visit www.southcheshirechamberbusinessawards.co.uk
(pic: Flashback to winners of 2018)