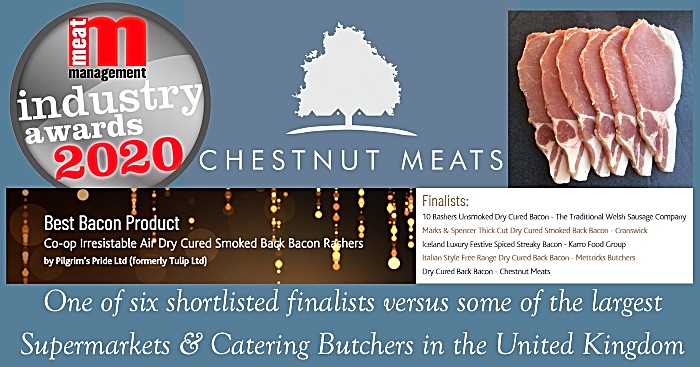 Chestnut Meats near Nantwich scooped a major industry accolade alongside major retailers such as Co-op, M&S and Iceland.
The business, based on Long Lane at Burland, made the finals and awards ceremony of the national UK Meat Management Awards.
Pre-lockdown, the company submitted its finest Dry Cured Back Bacon, which is renown for on Nantwich and Rode Hall Farmers' Markets.
And Chestnut Meats was shortlisted during the awards ceremony on September 8 as one of only six finalists
alongside competition from the Co-op, Iceland, M&S and other major retailers and specialist butchers.
A spokesman for Chestnut Meats said: "This is such a major success story for our small business, especially following our Runners Up position in the 2019 Best Traditional Pork Sausage.
"We are very proud of the butchery team and particularly David Roberts who takes such care and pride in the
products he creates.
"He has always joked that he produces Michelin Star quality Bacon and Sausages, and now he has full justification!"
The business, based on Longfields farm, offers specialist meats such as Goat as well as more traditional meats.