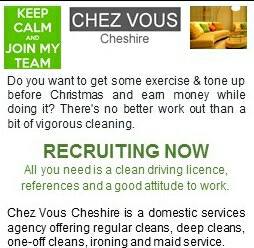 Chez Vous Cheshire is all about putting the client first and managing their expectations to achieve the results they expect, whether it's planning a large scale event or a weekly clean.
I use recommended and referenced cleaners, trades people and other services. Their details are on the Recommended Suppliers page and I manage your relationship with them. I have Public Liability Insurance so you have peace of mind that, in the rare occasion of something going wrong, insurance is in place.
We work with both commercial and domestic clients, offering a flexible, reliable, excellent service at competitive rates.
Our services include:
Commercial office & showroom cleaning
Domestic cleaning for homeowners, tenants and landlords
Event management support for businesses and individuals
General PA support for businesses and individuals
Please click on the tabs above to read more about how we can support you.
If you would like to discuss things in person please ring me on 07941 986806, fill in the form on the contact page or drop me an email at [email protected]
I look forward to hearing from you soon
Judith Kenyon
Owner