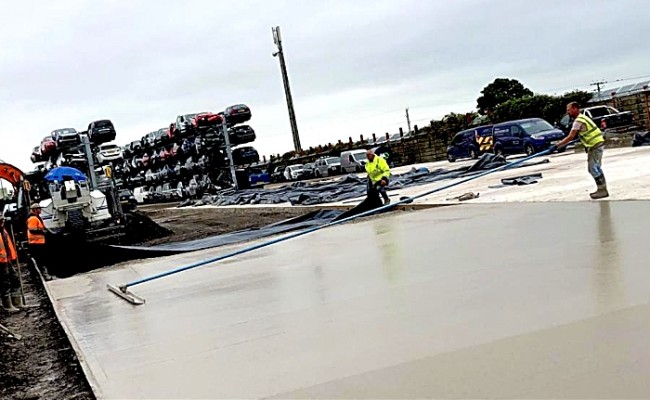 North West groundworks specialist M Downes Earthworks has won the contract to build new storage areas for Nantwich salvage and dismantling company SYNETIQ.
Earthworks has already started work on the project to reconstruct the holding yards for the thousands of scrap and salvage vehicles that pass through the car transplants site in Hurleston.
Based in Whitchurch, Earthworks is using state-of-the-art machinery and latest groundworks technology to resurface yards where vehicles are stored in four-storey-high racks.
Sister company MD Aggregate Supplies is also supplying the aggregates and concrete for the job.
Due to heavy duty use on the yard, the concrete had to include structural fibres which replaces the mesh reinforcement.
Martin Downes, managing director of Earthworks, said: "This project not only sees us supporting the development of a successful, growing business, but it also shows our commitment to working with companies that help the environment.
"SYNETIQ handles 100,000 vehicles a year across its 16 sites in the UK.
"And its recycling and recovery rate is more than 95% of the weight of each of the 40,000 vehicles it scraps – which exceeds the target set by Europe."
According to a European Commission (EC) directive, all end-of-life vehicles should have a reuse and recovery rate of no less than 95%.
The aim of this target is to make vehicle dismantling, reuse, recovery and recycling more environmentally friendly.
Martin added: "Our work is continuing at SYNETIQ, where our team is resurfacing the heavy-duty storage yards with the minimum of disruption to the company's day-to-day operations."
Mark Schofield, director of SYNETIQ, said: "Earthworks was the obvious choice for the project thanks to the quality of its equipment and expertise.
"We called on Earthworks because we had two yards that were 40 years old and in need of being replaced.
"The project involves site drainage, interceptors and the laying of reinforced concrete, and we've been able to keep our business going throughout, which is absolutely crucial.
"Earthworks has kept to the timescale and have operated professionally and efficiently.
"Their efforts will support us in our drive to continue meeting – and exceeding – our recycling targets, and growing our business for the benefit of the North West and the UK."
Meanwhile, SYNETIQ Ltd has joined London Stock Exchange Group's international business support and capital raising ecosystem, ELITE.
Tom Rumboll, Executive Chairman of SYNETIQ, said: "We have a vision to create a vehicle recycling industry that we can all be proud of.
"We feel excited and privileged to be working with Elite to work towards the next phase in our business growth."
Umerah Akram, Head of ELITE UK, London Stock Exchange, added: "I'm excited to present the latest UK company to join ELITE, a clear demonstration of the country's ability to grow great businesses.
"These companies drive innovation, employment, and create opportunities for us all."