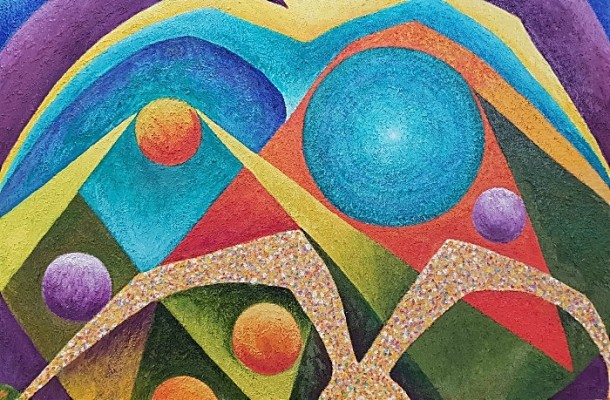 Highlights of the Golda Rose (1921-2016) exhibition are being shown at the Little Cheshire Gallery in Nantwich over the next few weeks.
A painter, sculptor and poet inspired by her natural surroundings, Golda used her creative power to inspire and help those around her to find well-being through art.
Her style was inspired after she saw an exhibition of William Blake in London in 1964, going on to paint and write poetry on her ideas of the spiritual journey and the transformative power of nature.
Having studied at Manchester School of Art, Golda went on to practice and teach in Cheshire, becoming a pioneer of art therapy in the North West.
She was the first art therapist to work at Cheadle Royal Hospital and the first person to set up and teach an art therapy course at Trafford College.
Golda's sculptures were shown in Knutsford at the Pitcairn Gallery in 1984 and Tatton Park in 1989 as part of the "Capability Contemporary" exhibition.
Her last exhibition "The phenomena of Growth" took place in Macclesfield in 2015, celebrating the artist's lifetime of work.
Anna Carter, at The Little Cheshire Gallery on the Cocoa Yard, said: "We're honoured to exhibit one of Golda's oldest available pieces, The Vision, painted in 1967, among other works of varying subject and size.
"The creative spirit is often depicted in her paintings as a dove or a guardian angel, with her lyrically emotional aesthetic likened to the work of Chagall by art critics and curators.
"With many thanks to the estate of Golda Rose and Claire McCaslin, Cheshire Art Adviser and Director at McCaslin Art Advisory for making this retrospective possible."
To view the works and find out more about Golda Rose, visit The Little Cheshire Gallery. No appointment is necessary.