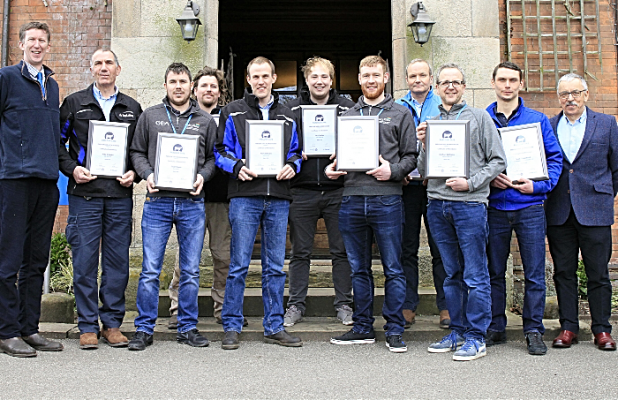 Specialist engineers and professionals from the milking parlour industry have graduated from Reaseheath College with a qualification from Parlour Safe, the Milking Equipment Association's industry training scheme.
The bespoke Category 3 (Advanced) course is delivered over two years by Reaseheath in Nantwich and one other land-based college.
It is accredited by the Institution of Agricultural Engineers in recognition of its professional quality and high standard of training.
MEA Chairman John Baines said the training scheme was becoming recognised as a benchmark throughout the industry.
The next step was to raise the profile within the dairy farming community so individual farmers would seek to work with accredited technicians to maximise parlour efficiencies.
Course Manager Mike Cullen said the growth and recognition of the course was testament to the hard work of the MEA and that it was being taken up nationally by distributors and manufacturers.
Ian Ohnsted, a milking technology advisor with The Dairy Group, confirmed his employers had been keen to help raise the level of understanding of milking parlour systems and had supported the training initiative from the outset.
Mike Williams, service manager for Dairy-Scope Ltd, a DeLaval dealership, said his company was a member of the MEA and had selected him to gain the accreditation so he could help the business progress.
He said: "I felt very welcome from the first day and as this is an interactive course it has been easy to fill in gaps in your knowledge by asking questions.
"Mike Cullen is very knowledgeable and good at explaining often complicated systems in an understandable way."
Other engineers to gain the qualification were:
Paul Gemmell (Dairyflow, Scotland)
Adrian Midgley (Cotswold Agricultural Services)
Mike and Mark Schwarz (SGE Seal Ltd., DeLaval dealership, Kent)
Jack Smiles (TH White, DeLaval dealership, Somerset)
Scott Drumond (Fullwoodhead Dairy Supplies, Scotland)
Stuart Swan (DairyFlow, Scotland)
John Hunt (John Hunt Dairy Services, South Wales)
For more information: www.reaseheath.ac.uk/parloursafe
(Pic: Parlour Safe graduates with Mike Cullen, left, and John Baines, right)