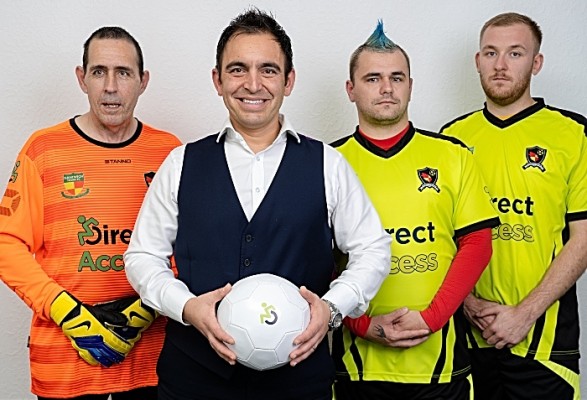 Disability firm Direct Access Consultancy has sponsored Nantwich Town Wolves Vision Impaired Football Team.
The company, which has an ambitious international growth plan, also wanted to invest in the Nantwich community and increase awareness of inclusive sports.
Steven Mifsud, recently named as one of the 100 most influential disabled people in the UK and manages Direct Access, said: "As we work hard to promote inclusion for disabled people including within sports, this was an ideal opportunity for us to increase awareness.
"Direct Access has had a phenomenal couple of years, and we felt this was a good way to channel some of our success back into our local Nantwich community.
"To be honest, when the opportunity presented itself to sponsor the team, I grabbed the opportunity as it was a no brainer."
Keir Welch, the Wolves club's administrator, said: "The sponsorship from Direct Access hasn't just offered us financial stability, but the fact that we no longer have to worry about funding has opened a world of opportunities to us.
"Player morale is at the highest I've seen it for a long time.
"Our players are attending more and more events with us, because they no longer have to worry about costly travel expenses.
"Prior to Direct Access's sponsorship we didn't think the club had another season left – Direct Access has given us the chance to not only continue our work, but to thrive.
"I will forever be grateful for Steven and the team at Direct Access."
Craig Action, who has a vision impairment and is the club's manager, added: "I have competed in the national visually impaired football league for the past 16 years.
"I enjoy playing football as it allows me to participate in a sport, I am good at and it acts as a good sense of escapism from people judging me for being visually impaired and also allows me to help other people feel the same."