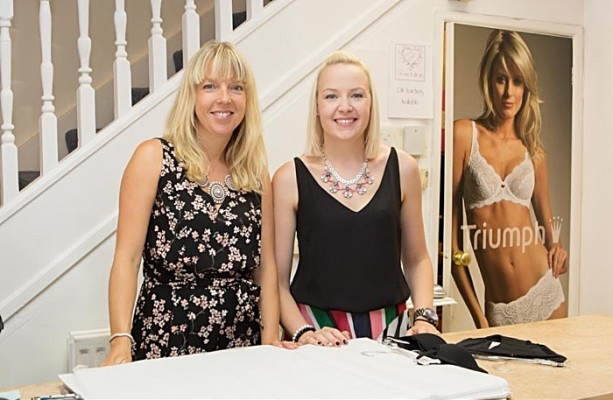 A Nantwich fashion store is working with TV celebrity Gok Wan next month.
Foundations, based on Hospital Street, is teaming up with the icon at a fashion show in Cheshire in September.
The store, run by Kate Hinton and Karen Flannery, was contacted by The Brunch Club and invited because of their social media presence.
"They said we were just what they were looking for in the Cheshire area to fit in with the lingerie slot for the fashion show in Knutsford," said Kate.
"Other independents will also have the opportunity to showcase their products and represent their brands and their businesses.
"Gok will be talking through each outfit in each segment and explain that with the right fitting clothing and of course underwear, all bodies will look and feel catwalk ready.
"There's no Nip and Tuck needed with the right foundations!
"Our segment will be called the body shape masterclass with many Q&As from the audience and will involve trends, styles and demonstrations.
"In short, he's travelling the country to instil Body Confidence, which is what we do every day in the shops."
The store also has two tickets to the sold-out September 22 show in Knutsford which can be won in their Facebook competition, details here
Karen and Kate bought Foundations Nantwich in 2015 and late in 2016 they purchased a second shop, previously called The Cheshire Lady, in Congleton.
Since then, the Nantwich shop has been revamped with new decor, lighting, fixtures and stock.
And in Congleton, they have rebranded as "Foundations of Congleton" and moved premises to High Street.
"Both shops have been lingerie, swimwear and nightwear shops for over 30 years," added Kate.
"We are enormously proud to have had the opportunity to keep them playing such a key role in their local communities.
"After all, we sell products but we also provide a bespoke and specialist service and we dearly hope to remain on the high street for a another 30 years doing what we love."
Both Kate and Karen are former teachers who quit the profession to start on their new fashion venture.
"It meant we could be flexible around our young families and we are lucky enough to have some amazing members of staff and supportive family to help make that dream a reality.
"Moving into the lingerie industry has been educational and wonderful.
"We've met some truly inspiring people from all walks of life.
"We are also enormously proud to reveal that we are part of the prestigious Lingerie Guild.
"Only the most qualified and expert fitters are part of the newly established Guild."
To find out more about The Lingerie Guild and where to find your nearest expert fitter, visit
https://thelingerieguild.com/