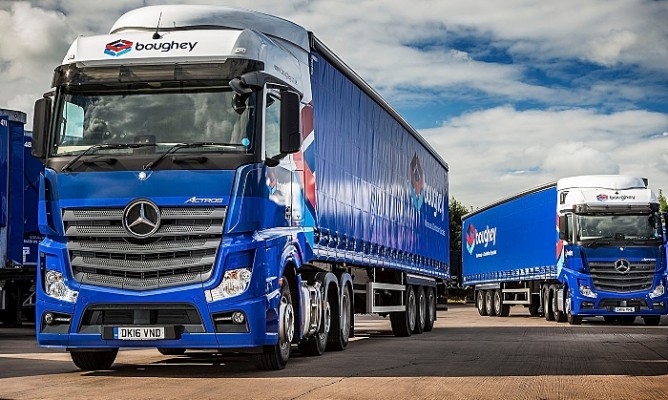 Nantwich firm Boughey Distribution has been shortlisted for a major honour in the 34th Motor Transport Awards – the road transport industry's "Oscars".
The Haulier of the Year is the most coveted award of the year and recognises the most outstanding transport company.
The flagship annual awards will be staged in November at The Grosvenor House Hotel, London.
Boughey, based off the A51 in Wardle, will join two other finalists for the top award which was judged by an independent panel of experts drawn from the industry.
The finalists' submissions were assessed for legal compliance, business success, high operational standards, staff development, health and safety; environment and quality initiatives.
It is first time Boughey has entered the Motor Transport Awards.
Managing Director Keith Forster said being on the shortlist is all about the dedication of the company's employees.
"We are all thrilled to have made the shortlist of what is most definitely the ultimate accolade in our industry.
"In spite of over 55 years of trading, we have been somewhat under the radar in terms of our success.
"While we are very proud of our business success, the high standards we operate across our company and the long-standing relationships we have with our customers, being shortlisted is all about the great team of people who work here.
"This includes drivers, warehouse operatives and the behind-the-scenes teams who keep everything moving 24/7.
"We will all be keeping our fingers-crossed for good news when the awards ceremony takes place in November."
Part of the NWF Group, the company was established in 1964 and operates a fleet of 120 vehicles and 250 trailers.
Boughey works with some of the UK's major food industry brands, providing storage and distribution services.
The firm employs 600 people with 90% of employees living within a 10-mile radius of its headquarters in Wardle.
During the Covid-19 crisis, the team at Boughey has been managing unprecedented demand to keep food supplies moving around the country, with an additional 50 truck-loads leaving its base each day.
This month, Boughey will open a new state-of-the-art warehouse in Crewe which will increase the company's overall storage capacity from 100,000 to 137,000 pallet spaces.