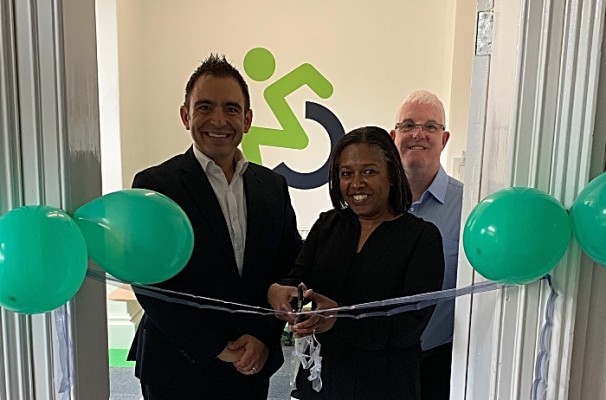 Award-winning Nantwich firm Direct Access has opened a new head office in Nantwich.
The move follows several major contract wins for the company, including with Dubai Expo2020 and Virgin Trains.
Sandra Martin, Deputy Director for the Department for International Trade, was guest at the official opening on Regents Park, off London Road.
The new office was opened on the company's 15th anniversary since it was formed by profoundly deaf director Steven Mifsud back in 2004.
It has seen a 400% increase in turnover, opening an office in Dubai in the United Arab Emirates and creating employment opportunities in Nantwich and Newcastle.
The Department for International Trade is the Government department tasked with helping British companies who wish to export and encouraging inward investment.
They provide training and grant funded programmes to support companies.
"This new office is a major step forward for Direct Access," said Steven.
"It enables us to provide support to our front line teams working to improve access for disabled people in the Middle East, Europe and America as well as closer to home in the UK."
Direct Access has worked on accessible design for several UK projects including the refurbishment of Blackpool's Winter Gardens, the Victoria Square retail, hotel and residential development in Woking and counts Virgin Trains, Eurostar and York Racecourse among its clients.
They also worked alongside Virgin Trains to create the first quiet room for people with autism at Crewe Station, called the "Calm Corner".
In UAE, along with Dubai Expo2020 Direct Access has already worked with the Nando's restaurant chain and a number of Embassies to comply with the Dubai Universal Design Code.
Veronica Dawson, International Trade Advisor, for North West International Trade Team, said: "It's been a pleasure to engage with Direct Access Consultancy Limited in my capacity and an International Trade Adviser for DIT in the North West.
"They are enthusiastic, passionate and have worked extremely hard to increase their business by embracing exporting opportunities.
"Their new offices are a measure of their success and I am excited for their future global endeavours."
(Pic: Steven Mifsud (Left), Sandra Martin (Right) and Andrew Hopwood)