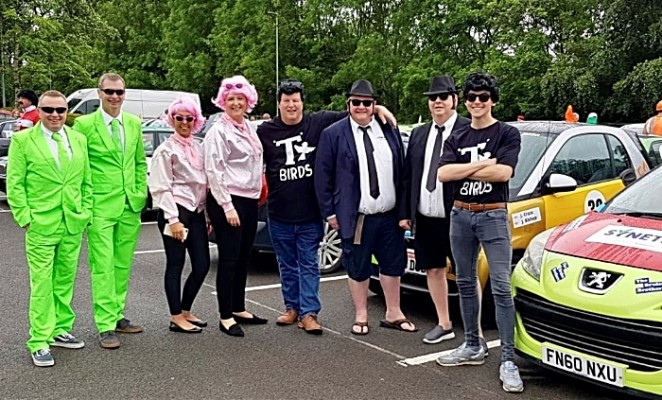 Staff at Nantwich vehicle salvage firm SYNETIQ completed the 2019 AutoRaise REAL Rally – with a helping hand from green parts!
The event gave SYNETIQ teams a chance to get reacquainted following the company's merger in early 2019 and to raise money for a worthy cause.
Funds raised will be split between two charities – AutoRaise, a charity trying to reduce the skills shortage in the automotive industry, and REAL, a children's charity.
Three teams were assembled from SYNETIQ sites across the UK, including the one on Chester Road in Wardle, Nantwich.
And each had to assemble their chosen transport for less than £1,000.
So teams looked within their own supply of salvage and the SYNETIQ vehicle auction to see what they could find.
Jason Cross and Jason Bishop were Team JasonJason, and showed a less is more approach by opting for a small and mighty Smart car.
Team two had Martin Horsfield and Simon Schofield: The Bruise Brothers.
Their eye-catching Peugeot 207 was matched by their suits, sideburns and sunglasses.
This left The Mixed Bag Jag – a luxury S-Type model carrying SYNETIQ's largest team.
Steve Dodson was joined by Helen Carling, Jack Constantine and Martine Johnson for the first leg, the latter three swapping with Tom Rumboll and Dave Harcourt for the second stint.
Panels were painted multi-coloured to signify the green credentials of the work SYNETIQ does and, beyond the patchwork paint, were prepared using SYNETIQ's own supply of quality recycled parts.
The three cars set off for the first checkpoint in Durham.
Three days and hundreds of miles lay ahead, with overnight stops in Edinburgh and Peebles.
A range of activities was organised, including an awards presentation and a specially arranged Highland Games.
A company spokesman said: "We're delighted to report all three teams finished without mechanical fault – a testament to the quality of SYNETIQ green parts!"