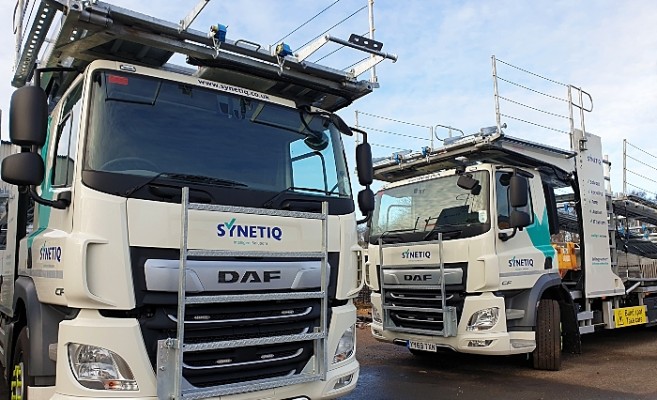 Nantwich vehicle salvage firm SYNETIQ has invested more than £1 million in a new fleet of vehicle transporters.
The vehicles have been purpose built by Belle Trailers and are equipped with state-of-the-art technology, designed to give drivers greater visibility of other road users.
Each is powered by a DAF CF340 FAR tractor unit, with Euro 6-compliant engines which also comply with Central London's Ultra Low Emission Zone.
The investment marks a significant expansion in SYNETIQ's recovery capabilities.
It now has more than 100 vehicle transporters on the road.
It also means 25 new trucks have been brought into service since March 2019, including 20 DAF & Volvo car carriers, 2 van carriers and 3 Iveco Tilt & Slide trucks.
The trucks fully comply with the Driver Vision Scheme – new legislation which comes into force in October 2020.
DVS rules will apply on all roads in Greater London and is designed to protect road users, including pedestrians, cyclists and motorcyclists.
Four-way cameras have been installed to cover drivers' blind spots, with additional sensors providing an additional warning.
Large, fluorescent warning signs are also fitted to blind spot areas to warn other road users.
SYNETIQ has also scheduled upgrades to equip its existing fleet with the same accident prevention technology.
In October, the firm appointed James Brown in the new role of Head of Transport.
The Wardle-based company say further investments and improvements are planned, with more announcements expected later this year.