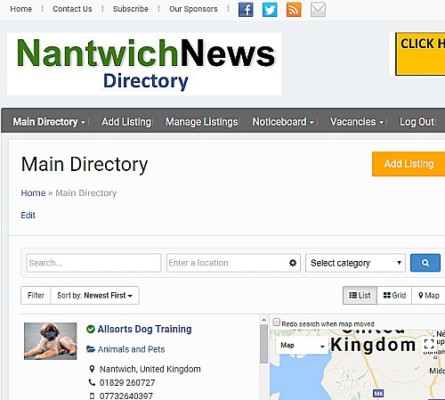 Another crop of quality local businesses have signed up to the Nantwichnews Directory over the past month.
Companies such as PC Handyman, Nantwich Washbasin Launderette, Tekelda, and Allsorts Dog training have registered on the site to take advantage of our burgeoning local audience.
They have signed up for just £30 registration fee to list their business, which allows them to post pictures, customer reviews, maps, contact and social media links as well as a detailed bio of the firm.
It also means they can post announcements as often as they want to the 'business noticeboard' and advertise on the 'job vacancies' noticeboard whenever they like.
These businesses will be promoted on our social media channels too, to around 8,000 Twitter followers and more than 7,200 Facebook members.
The Directory page in its first couple of months has received hundreds of page views and customer reviews.
And it's all to help promote and support local and independent businesses in and around Nantwich and South Cheshire.
You can register your business and reach out to more than 200,000 people who read Nantwich News regularly.
Visit https://thenantwichnews.co.uk/directory/
To find out more about advertising on Nantwich News, contact [email protected]