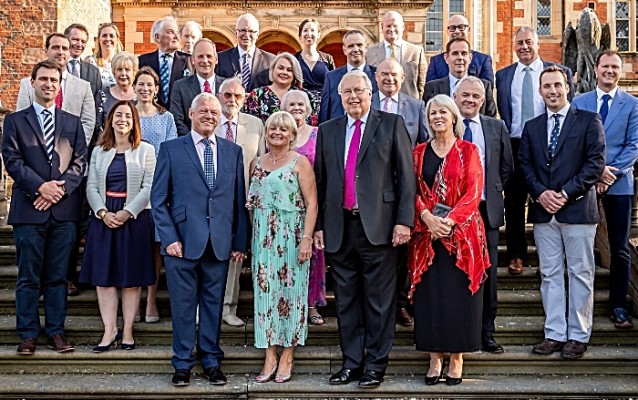 A finance director who helped steer the growth of one of South Cheshire's most iconic firms has stepped down to enjoy retirement and his growing family.
Father-of-four David Warr, from Willaston, was thrown a party at Crewe Hall after a long career at family-owned cereal company Mornflake where he has been part of the management team since 1992.
Over the years, he helped oversee growth of the brand into exciting, new markets including America, China and South Africa and secure its place as one of the world's best-loved breakfasts, enjoyed in 56 different countries.
In that time Mornflake's oat-based product portfolio has grown too from various lines of porridges to different varieties of fruity mueslis and nutty granolas adored by trendy food bloggers and health-conscious cooks.
Mr Warr, a trained accountant, joined as company secretary and soon after became finance director holding the purse strings of major investment including a 'Mighty Oat' rebrand across the product range and its famous fleet of orange lorries.
He said: "Oat-based products, in particular porridge, have developed a new image and are right up there with foods recognised for their nutritional value.
"Mornflake has been at the forefront of this and despite its growth and enviable reputation, it has remained family-owned and proud of its local roots.
"Employees feel valued and my 27 years are eclipsed by many members of staff who have served much longer, often straight from school.
"I very much enjoyed my time there."
Mr Warr has retired to spend more time with his family.
There are three grandchildren, including a new baby girl, and twins due in September, all living locally in Crewe and Nantwich.
One of his last duties was to join the Lea family, who own Mornflake, in welcoming His Royal Highness The Duke of Kent, the Queen's first cousin, to the Gresty Road site where he officially opened a Cereal Innovation Centre where ingredients for tasty new lines are blended and packed before being shipped around the world.
For more information on Mornflake products and its heritage go to www.mornflake.com
(Pic: David Warr and his wife Carol (front) with Mornflake managing John Lea and his wife Elizabeth and colleagues at Crewe Hall)