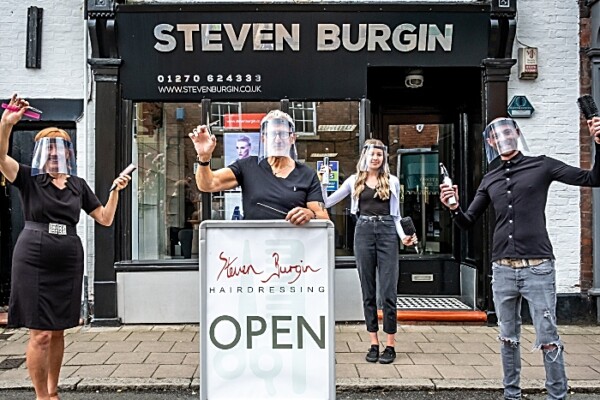 A Nantwich hair salon has marked its 20th anniversary by reopening after lockdown with a full diary and Covid Secure safety measures in place.
Steve Burgin, based on Hospital Street, says he is delighted to be back in business after the 'most challenging' period in his hairdressing career spanning 40 years.
He said: "Our anniversary event was going to be a sparkling affair this summer with fizz, canapes, demonstrations and goody bags.
"It's on hold until later in the year or a time when we can party properly.
"For the moment we are just thrilled to be open and doing what we do best – looking after heads of hair.
"Everyone I know in the industry has been hit hard by three months of closure and loss of revenue.
"I've traded through one recession after another but nothing like this and we know we can bounce back, better and stronger.
"I've kept the team in place and we have kept in touch with weekly Zoom meetings. Clients stayed in contact on Facebook and posted lovely messages.
"We've opened with a full diary for July and a really positive mind-set."
In line with industry guidelines, all four team members have been on Barbicide courses to gain infection control certificates.
Their standard 'uniform' is now a full visor.
Each client is offered a face mask and receives a pack containing a freshly laundered towel and gown on entry. Magazines and hot drinks are no longer allowed.
Instead there is water and disposable cups.
Steve added: "Fortunately the salon was already very well-spaced out with each station some two metres apart for the comfort of stylists.
"Every morning the team will receive a temperature check.
"This will be the 'new normal' for the foreseeable but I'm so pleased to be in action again.
"We are advising clients to book as soon as they can as slots are being taken quickly."
Steven Burgin Hair, one of the oldest businesses on Hospital Street, has been a landmark in the town centre since 2000.
Ahead of opening, the salon underwent a deep clean and sympathetic refurbishment in line with its age, more than 100 years old.