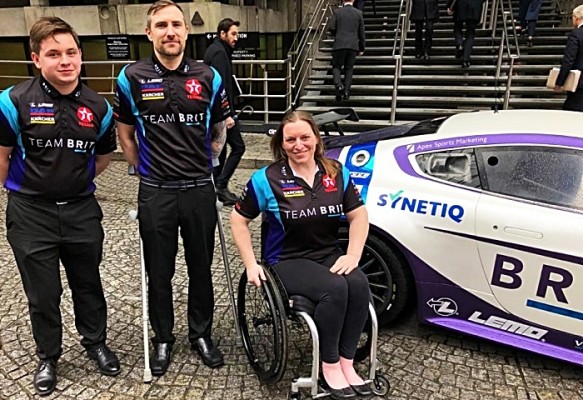 A pioneering Racing Academy for drivers with disabilities is set to grow in 2020 with the backing of Nantwich vehicle salvage firm SYNETIQ.
Team BRIT aims to be the first all-disabled team to race in the Le Mans 24 hour.
Through its Racing Academy, set up in 2019, it supports people with physical and psychological challenges in accessing motorsport.
Wardle-based SYNETIQ is supplying Team BRIT with salvage vehicles from its online auction, plus any parts the team require.
The BRIT team of technical experts will then re-build and upgrade these cars, specially adapting them for the Racing Academy.
SYNETIQ's support has enabled the team to buy its second Academy car, a BMW M240i – F22.
Mark Schofield, Director at SYNETIQ, said: "We're delighted to announce our new relationship with Team BRIT – an inspiring and truly unique racing team.
"In doing so, we are helping to make motorsport accessible to current and future Team BRIT drivers, who previously may not have dreamed of such an opportunity."
Dave Player, Team BRIT Team Principal, said: "We are incredibly grateful for the support SYNETIQ is providing our team and our Racing Academy.
"As industry-leaders, their confidence and belief in what we are trying to achieve means so much.
"Their support will allow us to increase the number of Academy sessions we can offer, so that we can welcome even more disabled drivers to our track days.
"For many, these opportunities are something they never thought would be possible for them, so by helping us, SYNETIQ is opening the door to motorsport for so many people.
"I'd like to thank them on behalf of everyone at Team BRIT and look forward to working with them throughout 2020."
Further information on SYNETIQ can be found at www.synetiq.co.uk