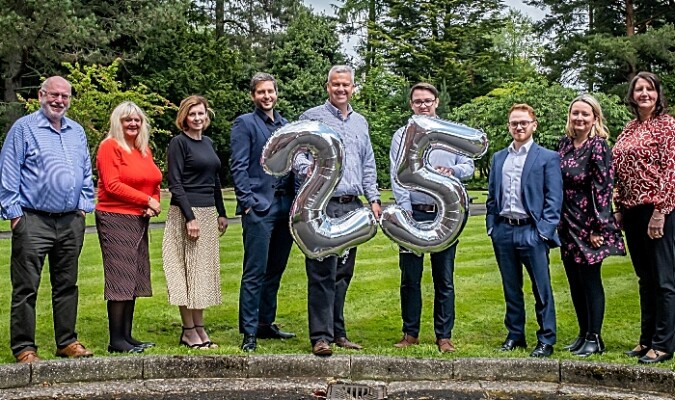 South Cheshire Chamber of Commerce will be back this autumn with another spectacular event shining the spotlight on the area's Best in Business.
A date has been set for the Chamber Business Awards 2022 – and organisers are pulling out all the stops to ensure the 25th anniversary milestone is celebrated in style.
The Awards will take place at Reaseheath College on Friday, November 18 and the Chamber plans to make it another memorable night where the crème-de-la-crème of the South Cheshire business community is recognised.
Chamber Chief Executive Paul Colman said: "We stage many events through the year but the Business Awards remain our flagship.
"This will be our 25th ceremony and every year we take pride in celebrating the achievements of our local business community. With restrictions no longer holding back our arrangements we can truly celebrate in style and plan a joyous occasion."
The Awards, widely regarded as the best in region, made a successful comeback last year after pandemic postponement.
Enquiries are already being received about this year's Oscars-style ceremony and now entries are set to open any day.
With free entry into the awards and the chance to see your business name up in lights, the message from the Chamber is to 'get ready to be in the running.' Details are set to be released on a new-look website.
Once again the Chamber, based at the Apollo Buckingham Health Sciences campus in Crewe, aims to ensure businesses of all sizes get the acknowledgement they deserve.
There will be nine award categories:
Ambassador of the Year
Apprentice of the Year
Business of the Year (25+ Employees)
Business of the Year (Under 25 Employees)
Contribution to the Community
Employer of the Year
Excellence in Collaboration
Excellence in Customer Service
Start Up Business of the Year
The big names sponsoring each category will be announced soon.
Companies interested becoming involved are asked to get in touch with the Chamber.
Chamber Events & Marketing Coordinator Dominic Hibbert says: "The Awards made a big come-back last November after being postponed due to Covid 19.
"A fantastic night, including a presentation by our guest speaker Falklands hero Simon Weston, was shared by the local business community at the College.
"This year we celebrate a milestone, 25 years of showcasing the amazing achievements of local businesses and talented individuals.
"We are returning to Reaseheath College which proved such an impressive backdrop last year and plans are well underway to make it a very special night."
The Awards are a much-loved event on the local social calendar and always draw a sell-out crowd of business owners and their guests.
More information on this year's silver ceremony will be rolled over coming weeks including details of workshops to help create a winning entry.
For more information go to www.southcheshirechamberbusinessawards.co.uk