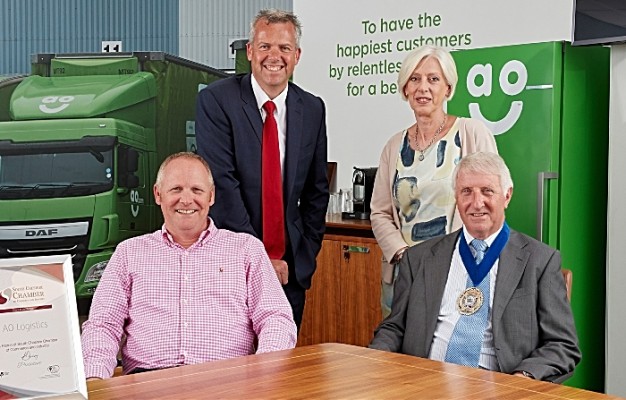 South Cheshire Chamber of Commerce has welcomed a major household name on board as a Patron as it promotes the area as a place to invest and create new jobs.
The Chamber has been backed by online white goods and electricals retailer AO.com which operates its UK logistics centre from Weston Road, Crewe.
The company, which employs more than 3,000 people countrywide and more than 600 at its logistics centre in Crewe, joins the ranks of several high profile businesses and organisations which support the Chamber as Patrons.
Chamber Chief Executive Paul Colman said: "AO.com is a huge online supplier of household appliances and electricals and a Great British success story.
"Its name has become synonymous with top notch customer service and it is testament to Crewe's excellent transport links that it runs such a large scale distribution operation from here.
"Over the years we have also come to know it as a caring employer with a strong emphasis on staff development and welfare.
"We are delighted to welcome AO.com as our newest Patron and look forward to working together on shouting out about all that is great and good about the South Cheshire business community."
AO.com was honoured for its people-approach at the Chamber Business Awards last autumn.
It won the Contribution to the Community category for its charity works and was named Employer of the Year for ensuring a good work-life balance for employees.
Businesses heard about its unique culture led by 'caring people' and a recruitment policy based on personality.
Managing director David Ashwell of AO Logistics said: "We're delighted to have become a Patron of South Cheshire Chamber of Commerce.
"With our UK logistics network working out of Crewe, we have seen first-hand the vital work the Chamber does to support the South Cheshire business community.
"We are looking forward to working together and with other local businesses to make the area a great place to do business and to also help attract talent into the local community."
The company joins Assurant, Bentley Motors, Cheshire College South & West, Manchester Metropolitan University, Mornflake, Reaseheath Colllege and SG World and The Guinness Partnership as Patrons.
Meanwhile, membership of the Chamber is growing across a diverse range of sectors.
Newcomers this summer range from jam-makers and marketeers to business consultants and beauticians.
The search for 2019's Business Awards contenders is also underway.
A ceremony will take place at Crewe Hall on November 22.
For details on how to enter visit southcheshirechamberbusinessawards.co.uk
(Pic: Chamber chief executive Paul Colman and chairman Diane Wright (back) with
President John Dunning and AO.com managing director David Ashwell)