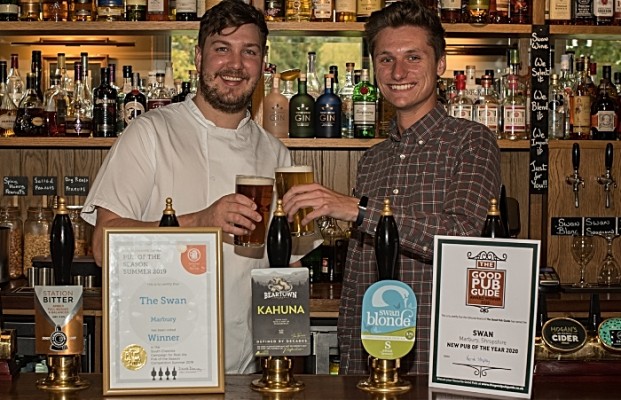 Staff of the relaunched Swan at Marbury have raised a toast to a top accolade from the national Good Pub Guide.
The latest edition of the prestigious guide voted the historic South Cheshire country inn the New Pub of the Year 2019.
And the Swan has also won acclaim from South Cheshire Camra with the Summer Pub of the Season 2019 award.
The awards come just 18 months since the 1700s dated inn was resurrected with a major investment from owner Pubs Ltd.
The Good Pub Guide describes the Swan as: "Carefully renovated village pub with attractive open-plan rooms, a thoughtful choice of drinks and food served by well-trained staff and seats on large terrace.
"Beautifully refurbished using natural and reclaimed materials … a long bar made from reclaimed school chemistry lab counters. It's all gently civilised, informal and chatty.
"Enterprising modern food… includes' potted pork with chutney, curried mussels with toasted beer bread, goat's cheese and beetroot salad, whole plaice with samphire and mussel butter.
"Friendly, helpful staff' are praised, along with the selection of five hand pulled real ales and 'a dozen good wines by the glass, plus wine on tap that they import from France."
The Camra award judges said: "By the village oak tree is the Marbury Swan, a newly- refurbished pub with a spacious new patio and dining areas.
"It has a highly-regarded chef, and has steadily built up trade.
"It always has a fine collection of real ales with Station Bitter by Stonehouse as the excellent malty 3.9% house bitter.
"Guests usually include Beartown and other local breweries, so it has green credentials too."
Pubs Ltd partner Mark Sumner – brought up at the Swan by his licensee parents George and Ann – welcomed the award.
He said: "The awards are a terrific tribute to the professionalism of the young team, led by Tom and Gemma with head chef Matt and assistant Joe.
"They can all be very proud of this early recognition in a new lease of life for a much loved village inn which, we think, is well worth finding.
"Marbury has a 15th century church overlooking the scenic meres and is on the Cheshire Cycleway route and close to the Shropshire Union Canal.
"There are excellent walks around the area, which you can start from the pub, and we have our own walks led by the staff."
(Pic: Head chef Matt Marren and landlord Tom Morgan-Wynne raise a glass of ale to celebrate the top awards from the Good Beer Guide and Camra)