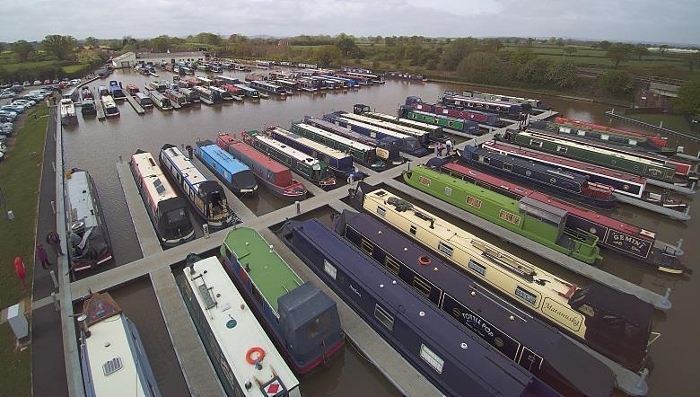 Venetian Marina will be hosting their annual open day at the site near Nantwich on May 3.
The event at the Cholmondeston site based on the Middlewich branch of the Shropshire Union Canal will be from 10am until 4pm.
Venetian Marina was bought in 2011 by the Steele family, who also own Whilton Marina based in Northamptonshire.
The marina team will be on hand to welcome all narrowboaters, and would-be narrowboaters, and answer any questions. Admission and parking will both be free.
Free, no obligation valuations will be available for those considering selling their narrowboat.
Industry experts will be present to help with queries and advise, including local marine surveyor Steve Hand, and Boat Safety examiner Russel Smith.
Cover & Canvas Repairs will be holding demonstrations, and answering any questions.
There will be representatives from River & Canal Rescue, and Mactra Marine Equipment.
Refreshments will be provided throughout the day by Venetian Tearooms and Baked On Board will be present selling their home made pizzas.
Well-known YouTube vloggers The Narrowboat Experience will be there selling their artwork, and document the day for their YouTube channel.
Local radio station CAT FM (107.9) will broadcast live from the event, and there will be live music throughout the day.
Several narrowboat traders, including The Fudge Boat, Canal Art By Ruth, Wendy B's Floating Art Gallery, will also attend.
Stitch On The Water will be bringing their own brand of embroidery to us, and The Bird Box will have hand crafted items for sale.
Competitive narrowboat furniture company Elite Furnishing will be carrying out demonstrations and exhibiting a wide range of their products.
There will be a selection of stalls; Frames & Crafts By Claire, Twinkle Textiles will have machine embroidered textile art for sale, DB Handcrafted will be selling a wide array of handmade wooden items, and Birtle Bead Studio will be selling their unique jewellery.
Venetian Hireboats & Chandlery will have their latest addition, day boat Barcarolle, open to the public for viewing onboard.
Those attending will be entered into a free prize draw, with several great prizes up for grabs.