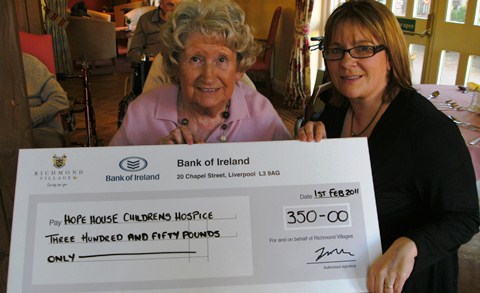 Fund-raising feats at Richmond Village Nantwich have earned more than £4,000 for charity.
Parkinson's UK, Hope House, Cystic Fibrosis and Macmillan Cancer have all benefited from events held at the Village in 2011.
These included £2,345 raised at a Black Tie Ball in aid of the Army Benevolent Fund.
Staff and residents dreamt up several fund-raising events like a balloon race, where over 300 balloons were released into the summer sky, a sponsored silence by Fred Allman and raffles, tombolas and coffee mornings.
A few staff even braved a reverse bungee jump.
An Easter Egg collection with The Cat Radio resulted in hundreds of eggs being hand delivered by staff to children's wards and support centres.
The latest appeal for cuddly toys has transformed Richmond Nantwich reception into a Santa's Grotto.
These will be delivered for Christmas to the Wingate Centre in Wrenbury.
The Village has also supported Olwyn Payton, of Sainsbury's Nantwich, who was named local volunteer of the year.
A huge hamper was donated by Sainsbury's for the annual staff raffle, with proceeds going to St Luke's Hospice.
Village advisor Nicola Tooke said: "We are all delighted at the wonderful amount of money that has been raised this year.
"A lot of hard work and commitment by our staff and residents goes in to making the events such a huge success and I would like to say a personal thank you to everyone who has been involved in some way."
To get involved with the Village or to raise money, contact Nicola or Alison on 01270 629080.