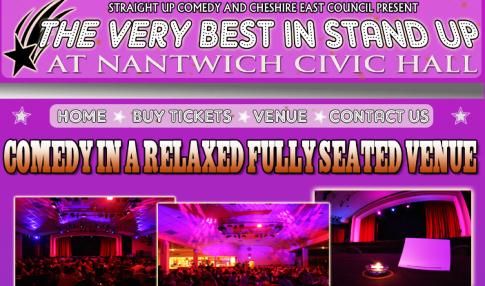 The latest "Very Best in Stand Up" brought some warm cheer to a freezing Nantwich.
A host of top funnymen entertained a sell-out crowd at Nantwich Civic Hall, with the usual blend of hilarity, audience participation and outrage!
Host on the night Phil Ellis took a little while to shake off the chill and warm up the audience.
Mainly entering into banter with members of the crowd, Phil mostly hit the right notes although there were one or two bum keys in there, too.
But the Cheshire-based comic soon began to press the buttons and provided a fine link between the three acts.
First on was Devon funnyman Josh Widdicombe, one of the hottest young comedians in the country, who has appeared on Live At the Apollo and 8 Out of 10 Cats.
His crisp delivery and sharp observational wit soon had the spectators in stitches, and he proved popular for a first-time appearance in Nantwich.
Memorable moments included the "computer report" jape and the lost phone joke. A fine performance for the difficult first act.
Dave Longley provided an excellent replacement for the scheduled Nathan Caton.
Dave's no-holds barred language and superb gags around swear words and sexual activity proved that back to basics humour can be a big hit with the right type of audience.  
Simon Evans, a stalwart of the circuit and one of the finest acts in the country, wrapped up the night in fine style.
His "educated" army major style voice and delivery worked brilliantly, blending his hilarious anecdotes with witty asides and observations, which kept the laughs going one after the other.
It was another big success for the organisers who will be hoping for another sell-out crowd at the next comedy night on Friday March 2.
For more details visit www.civiccomedy.co.uk