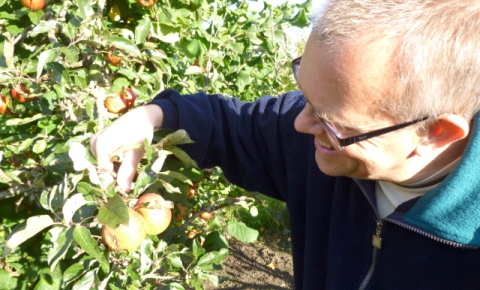 By Jonathan White
Visitors flocked to the 20th Reaseheath Apple Festival staged at the Nantwich college this weekend.
The free event featured dozens of different types of apples sourced from around the world.
Visitors also had the chance to taste and buy the many varieties.
People brought their own and took part in using the scratcher apple milling machine and press, which forms the initial stages of the cider-making process.
Retired Reaseheath lecturer Derek Jones was on hand to identify different varieties and Reaseheath lecturer Harry Delaney offered fruit growing advice.
There was a variety of flowering plants for sale, along with a cheese tasting table and sale, while leaflets and display boards advertised the variety of courses available at Reaseheath College.
There were also outdoor tours around Reaseheath's fruit garden to show fruit trees on a variety of root stocks grown under different systems.
(pictures by Claire Faulkner and Jonathan White)