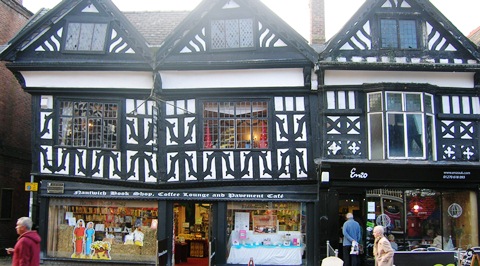 Nantwich Bookshop is to host a series of activities and author events as part of Independent Booksellers Week.
The shop, on High Street, is one of over 350 around the UK which has signed up to the annual celebration.
The June 29 to July 6 event aims to bring creativity and energy to the heart of the high street, and a chance for the community to get involved.
All bookshops taking part will feature events such as author talks, children's illustration workshops, literary lunches, school visits and even top name authors taking a turn behind the tills.
Nantwich Bookshop events include:
Friday June 28: Gruffalo Cave Grand Opening! The magnificent Gruffalo Cave will be available to visit at £3 a child (redeemable against any purchase in-store). Supper Club – Dianne Tice, renowned Cellist, will talk about and play several pieces at this already sold out event.
Saturday June 29: The 'Royal Nappy' 10am to 11am – Storytime and Sing-a-long (3-6 year olds)
Sunday June 30: Open from 10am to 4pm – Come in and see the changes to our 'Childrens area' and visit the 'Gruffalo's Cave'
Monday July 1: "Fun French" – Learn French the fun way taster session from 11.30am to midday with Kay Leydon of La Jolie Ronde (3-4 year olds)
Tuesday July 2: Gruffalo Storytelling from 11am to Noon – Visit the Gruffalo's Cave
Wednesday July 3: Book Quiz – 2pm £5 per team member (incl. Snacks and Drinks) Max. 4 per team. Great prizes.
Thursday July 4: Gruffalo Storytelling from 10.30 -11.30am – Visit the Gruffalo's Cave
Friday July 5: Crafty Kidz Stuff – 11.30am – 12.30pm with Dot. Fun Art and Crafts for pre-school children. Supper Club – with Malcolm Lorimer of Max Publishing who will talk about how and where to get that book you have inside you published.
Saturday July 6: Poetry competition winners announced. The winners of our Adult and Children categories of our annual poetry competition will be contacted. Entry forms are available in-store. Entries close 10am, July 6.
Steve Lawson, of Nantwich Bookshop, said: "Independent Booksellers Week 2013 is going to be bigger and better than ever, and we are excited to be involved.
"Everyone knows supporting local shops helps the area thrive, and we have a strong line up of events and in-store exclusives we hope will attract many customers into the shop.
"Something we are particularly looking forward to during this year's IBW celebrations is the opening of our marvellous Gruffalo's Cave."
For details call 01270 611665, email [email protected], visit www.nantwichbookshop.co.uk
For more information on IBW please visit www.independentbooksellersweek.org.uk