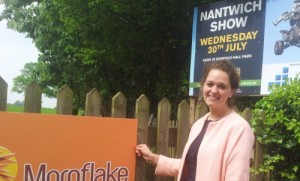 Nantwich Show organisers have hailed Cheshire manufacturer Mornflake for its continued support.
And they say the financial backing from the cereal making company is behind the event's growth and success.
This year's show on July 30 will once again see tens of thousands of people visiting the Mornflake Food Hall on Dorfold Park.
Mornflake managing director John Lea, former president of the Nantwich and District Agricultural Society which stages the event, said: "We are delighted to part of this major showcase of British agriculture and farming.
"Although the show has grown into a really big affair, attracting many thousands of people, its roots are still in farming and promoting all that is great and good about the countryside.
"It reflects what we are about as a company – quality, tradition and supporting our local agricultural industries."
The Lea family has milled oats in South Cheshire since 1675 when it was founded in Swettenham.
Most of its grain is 'contract grown' on specially selected farms throughout the UK.
Mr Lea added: "Oats were once one of the UK's largest cereal crops but are now one of the smallest.
"By placing some of the largest contracts with specially selected UK farmers we are one of the biggest contributors to the continued growing of this traditional crop.
"Our aim is to conserve oats as an essential part of the British agricultural economy for many more years to come."
Nantwich Show organisers have paid tribute to the company as they plan the 'biggest and best show yet.'
Nantwich Show chairman Michael John Parkin said: "Mornflake's support of the show over many years has without doubt contributed to its growth and success.
"Costs of staging the show rise every year but Mornflake has remained loyal. It's our biggest sponsor and a great friend of this important local event."
There'll be all the usual attractions – including cattle, sheep, horse, horticulture, homecraft, floral art and pigeon and poultry sections – with a few new ones too, including a ringside display of vintage cars and machinery.
Cheese producers from all over the world compete for Supreme Champion status in the International Cheese Awards.
Mornflake's sister company HJ Lea Oakes is also a supporter and will welcome guests to a pre-show reception the night before.
(Pic: Mornflake marketing coordinator Catherine Sadler will fly the flag at this year's Nantwich Show)