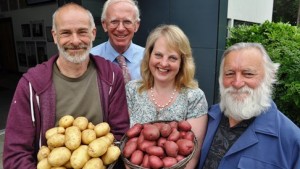 Students in Nantwich were feeling chipper after taking part in a First Early Potato Show at Reaseheath College.
Thirty Royal Horticultural Society students showed their skills at growing the world's favourite root veg – and were rewarded with praise from one of the county's top judges.
The students, who attend college one day a week, have been learning how to successfully sow and plant vegetables and how to prepare them for exhibition.
Reaseheath's Master of Horticulture Harry Delaney hopes their new knowledge will encourage them to support the fruit and vegetable shows run in their local communities.
More than 20 varieties of first early potatoes, grown on plots at the college, were on show.
Local allotment holders and gardeners were invited to attend, along with families and fellow students.
"Best in Show" went to Mary Johnson, who also won the Monday group section with her "Red Duke of York" potatoes.
Winner of the Friday group section was Mark Bayes, who exhibited the "Swift" variety.
Second and third places in the Monday group went to Janine Shaw and Penny Harrison while Niamh Poole and Richard Hudson-Davies were runners up in the Friday group.
The competition was judged by Derek Jones, of Malpas, a well known vegetable exhibitor, judge, horticulturist and historian.
He said: "I was looking for four potatoes which were equally matched in shape, size and colour.
"They had to be of good quality, of uniform shape, well prepared and typical of the variety.
"The entries showed a great deal of care and attention to detail."
Harry added: "This is a fantastic way for our students to translate scientific principles into practical skills into practical skills.
"I also wanted to take away the mystique surrounding horticultural shows by giving them some show experience at college."
Around 100 part-time students gain RHS qualifications at Reaseheath each year.
(Pic: Marion Barker, representing Best in Show winner Mary Johnson, and Mark Bayes with RHS Master of Horticulture Harry Delaney and judge Derek Jones)