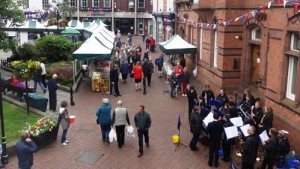 The organisers of Nantwich Fete say they want to build on its success – by making it an annual event.
Thousands filled the town centre at the weekend to enjoy the fete and Nantwich Skoolsfest 2014.
The idea for the fete, which included fairground rides, entertainers, stalls, Punch and Judy, tombolas, popcorn and face painting, was only conceived several weeks before the event.
Traders in the market dressed up in school costume to commemorate the event.
Refreshments were provided in the parish hall, a hog roast on the high street and a barbecue at Clewlows, who donated part of their burger income to St Mary's church funds.
Skoolsfest events charmed parents and visitors with a huge range of musical, dance and drama performances at venues throughout the town by pupils from the town's 14 different schools, as well as a popular art exhibition at the museum.
The day kicked off with the "Big Sing" which saw the massed choirs of all the local schools gather outside the church to perform a medley of contemporary and traditional songs.
Fete spokesman Shaun Cafferty said: "The idea of having a town fete was only conceived in late Spring, so we were very pleased at how things went, given limited resources and timescales.
"The atmosphere in the town was great, and someone told me that the roads and car parks were very busy so obviously a lot of people came to enjoy what was on offer.
"We hope to make this an annual fixture in the Nantwich events calendar, which had a gap over the summer months that we wanted to fill.
"With a longer planning period and more helpers it can only get better and better. The children's performances were great, and it's clear Nantwich has got talent!
"I would like to thank the small group of volunteers who worked so hard to pull this together and especially the support of St Mary's Church and the Skoolsfest organising team of local teachers, without whom this great day would simply not have happened.
"Thanks also to the local businesses who again put their hands in their pockets to help finance the event.
"Funding and volunteer manpower is what makes these events possible, and we need this continued support so we can carry on having these special days in the town."
Anyone interested in helping or supporting next year's fete can contact Shaun at the Martin&Co office on Hospital Street or the Nantwich Town Council clerk at the Civic Hall.