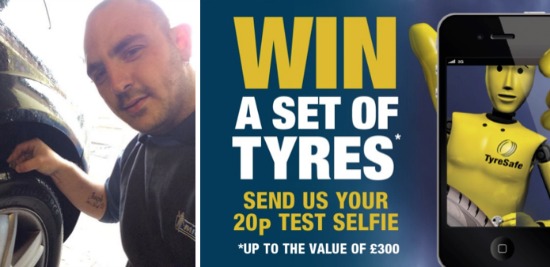 A South Cheshire car service company is running a competition to find the best "tyre test selfie"!
And Crewe Tyre & Exhaust are offering a chance to win £300 worth of car tyres for the best selfie sent in.
The initiative is part of Tyre Safety Month, aimed at encouraging drivers to check their tyres as the more dangerous winter road conditions approach.
To enter the prize, take a photo of yourself taking the 20p test on your existing car tyres.
Place a 20p coin into the main tread groove of your car's tyres. If the outer band of the coin is obscured when inserted, then the tyres should be above the minimum UK tread depth of 1.6mm. If the outer band of the coin is visible, tyres maybe unsafe and illegal.
Eric Harrison, owner of Crewe Tyre & Exhaust, based on Derby Street, Crewe, said: "It is important to check your tyres regularly to ensure they are safe and within the legal requirements.
"If your tyres are found to be illegal, you could face a fine of up to £2,500 and three points per illegal tyre on your driving licence."
For more information on the competition visit www.crewetyres.co.uk. Closing date is October 31.