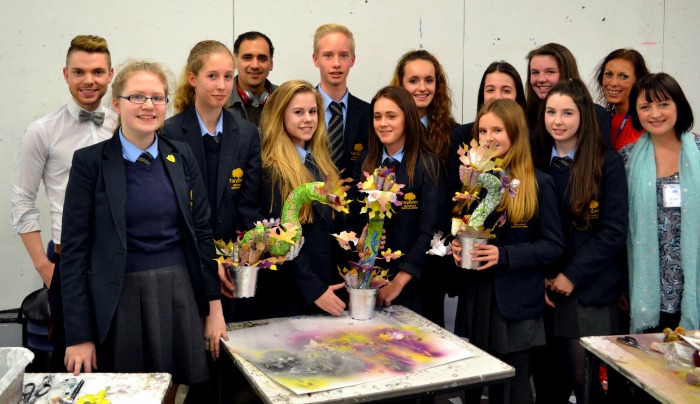 Pupils from Tarporley High School have seen their artistic talents make it to the big stage!
Year 9 pupils produced a series of sculptures inspired by the "Little Shop of Horrors" in collaboration with the Royal Exchange Theatre in Manchester.
Students Zara Whyke, Oscar Culliford, Lauren Bellamy, Ryleigh Davies, Anna Steward, Megan Rigby, Caitlin Lee, Lauren Walker, Sophie Davies, Emma Howe, Georgia Hazeldine and Kate Edge were set the challenge of producing alien-like plants from materials ranging from wire and plaster bandage to spray paint and fabrics.
They worked with professional artist Diane Pagan to design plants that are dark, deadly and full of personality.
Pupils also took part in "Little Shop of Horrors" activities across the curriculum – writing plant poems in English, making carnivorous plant collages in Biology and creating scenes inspired by the musical in Drama.
Some of the plants have even made it onto the stage and form part of the production at the Royal Exchange Theatre.
Watch out for the 'fans' in "The Meek Shall Inherit" towards the end of Act Two.
Tarporley head of art Mr Bowland said: "It's fantastic to see independent creative young minds work with such passion and skill, producing work of such a high calibre.
"The students are a role model for the art department and highlight the great range of talent we have here at Tarporley."
The work is on display inside the Royal Exchange Theatre and some pieces feature in the production which will be on show until January 31, 2015.