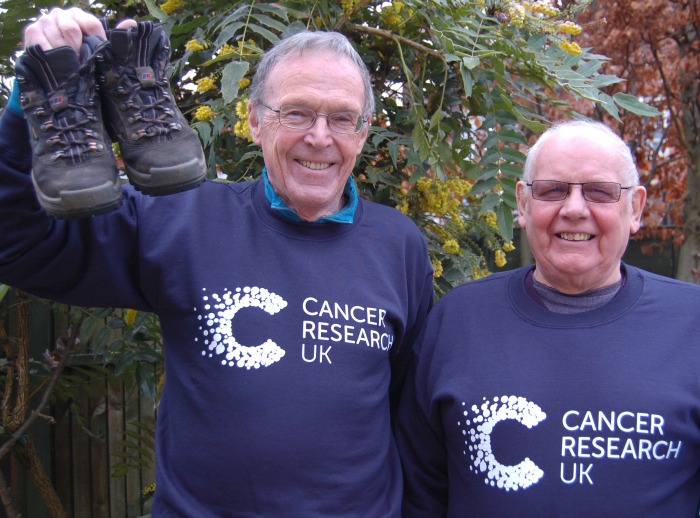 Two South Cheshire friends have been putting their best foot forward organising the Striding the Sandstone sponsored walk.
David Rowlands and Roy Williamson are staging the event in March to raise money for Crewe and Nantwich Cancer Research UK committee.
The walk on March 8 along the scenic Sandstone Trail in Cheshire will offer fundraisers a choice of 3, 5, 10 or 15 mile routes.
All courses will start and finish at the Candle Workshops at Burwardsley.
Roy, from Capesthorne Road, Crewe, lost his wife Pat to cancer five years ago at the age of 67.
He said: "Pat put up a courageous fight, which she lost just six weeks following diagnosis.
"The walk will be a great way of helping to raise those vital funds to help cure all cancers sooner."
David, also from Crewe, said: "On a good day the views are along the Sandstone Trail are magnificent.
"There's a course suitable for everyone, so we would urge you to help us in the fight against cancer by asking your friends, family and colleagues to enter.
"Even your dog can come along and take part in what will be a great day out for all."
Paula Jones, Cancer Research UK's fundraising manager for Cheshire, said: "David and Roy are an absolute inspiration and we can't thank them enough for their continued support and dedication.
"Cancer Research UK has made enormous progress in the fight against cancer.
"However, we have only been able to do this thanks to the dedication and commitment of volunteers and supporters without whom we would not be able to fund outstanding scientists, doctors and nurses."
Places on the walk must be booked in advance and cost £5 each.
To enter or for further information contact David Rowlands on 01270 768434, email [email protected] or visit www.stridingthesandstone.co.uk
(Pic: Dave (left) and Roy putting their best foot forward organising 'Striding the Sandstone' sponsored walk for Cancer Research UK)