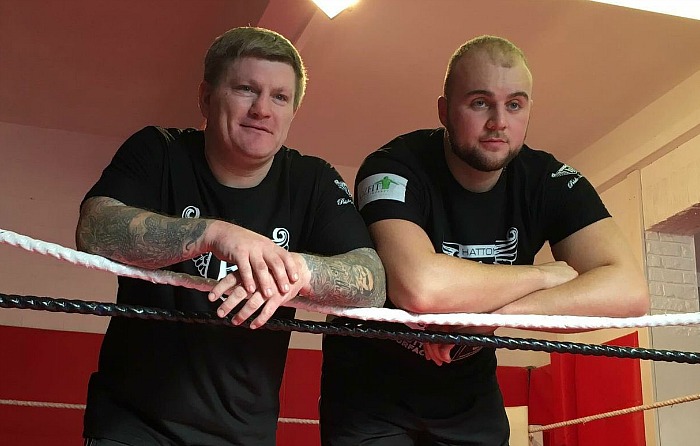 Nantwich heavyweight Nathan Gorman will top the bill at Ricky Hatton's forthcoming show, labelled 'The Beginning'.
The 20-year-old fighter will return to the ring for the event at Fenton Manor in Stoke-on-Trent on October 1.
Gorman will take on Sheffield's David Howe in a battle for the Heavyweight Central Area Title.
It will be only the sixth professional fight for the former GB Boxing squad athlete.
Gorman turned pro in December last year, and is trained by four-time world champion Ricky Hatton.
He will lead the list of Hatton-trained boxers on the card in what will be the first in a series of shows hosted by Hatton Boxing.
Hatton's stable of fighters, who train at the gym in Hyde, also includes 21-year-old super-middleweight Jake Haigh.
Gorman goes into his fight unbeaten in four professional bouts and intends to maintain his record against Howe.
Gorman is keen to emulate the success of his great-uncle Bartley Gorman – a bare-knuckle
boxing legend often referred to as the 'King of the Gypsies' thanks to an unbeaten run which spans over more than two decades.
And at 6ft 3in and 18 stone, Gorman will be vying to stop 36-year-old Howe adding to his impressive total of 11 pro victories from 13 contests.
"I can't wait to get in the ring," he said.
"I know it won't be an easy fight but I've been training hard for this and I need to be getting the rounds in now against decent opposition to get to where I want to be."
The fight was previously scheduled as part of the Fury vs. Klitschko undercard in July, before an injury to Fury saw the match postponed until later this year.
This will undoubtedly be Gorman's toughest test to date, but that isn't something that worries trainer Hatton.
"It'll be a tough fight for Nathan but it's the level we need him to be fighting at if he's going to progress and develop as a pro boxer," said Hatton.
"Dave has a good record that he'll be working hard to maintain.
"But Nathan's been looking really sharp in training and putting in the hours to ensure he's in the best shape possible come October and we're confident it'll pay off."
Gorman credits his performances to his training and set-up.
"We've got a strong team behind us and Ricky is a very good trainer.
"Having someone with his level of experience in my corner is invaluable and gives me so much confidence and belief that I can really go far in the sport."
Tickets to 'The Beginning' show are £30 for general admission and £60 ringside.
Visit www.hattonboxing.com for more information and to buy tickets online.
(pic courtesy of @GormanBoxing)