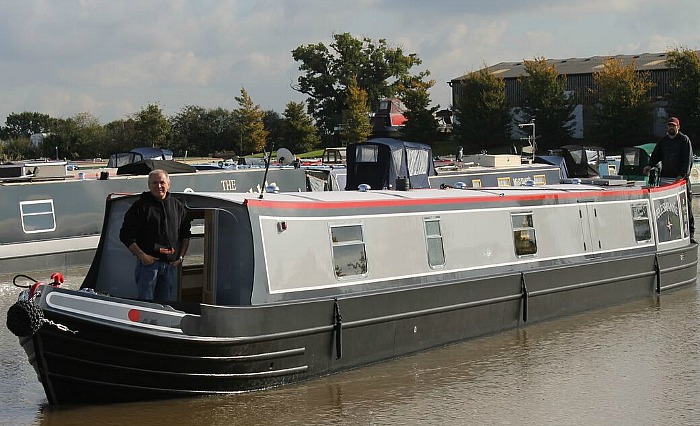 Aqueduct Marina in Church Minshull has chosen Muscular Dystrophy UK, Anne's Wish as its charity for 2017.
Rob Eddon, who bought the marina's Crick showboat and now moors at the marina, suggested the charity.
Muscular Dystrophy UK is dedicated to fighting very rare and progressive muscle-weakening and wasting conditions.
In February 2016, Mr Eddon lost his wife Anne, to inclusion body myositis (IBM).
Her family set up a fund called 'Anne's Wish' in her memory to help fund research into the condition.
IBM affects the ability to swallow. Arm and leg muscles weaken leading to difficulties in walking and climbing stairs as well as breathing problems.
Keen to know more and being aware of how much time Rob and Anne liked to spend on their narrowboat, the marina decided on Muscular Dystrophy UK as their chosen charity for 2017.
Marina director Robert Parton said: "At Aqueduct Marina we pride ourselves on our community engagement and knowing we can make a difference by supporting a member of our community to achieve his dream gives us great joy."
Aqueduct Marina supported a boat naming ceremony for Rob and his family, for the official launch of 'Eleshanne'.
The name derives from the first initial of Rob's grandchildren; Erin, Livvy, Ella, Sebastian and Harry; and Anne.
So far, Aqueduct Marina has raised £177 for Anne's Wish Muscular Dystrophy UK by donating £1 for each feedback received in the recent Marina questionnaire.
Other activities are planned such as the Christmas Fayre on November 27, a Staff 'Go Orange for a Day' on January 27, the Boaters' Bash and Open Day on July 23 and 24, and other themed fund raising events for next year.
Robert added: "We look forward to supporting Anne's Wish and hope our efforts will help raise awareness of IMB and help Muscular Dystrophy UK conduct more research into the condition."
Mr Eddon added: "It is hoped we can raise a significant amount of money, which will go a long way to assist in funding continued research.
"It is also intended to highlight our cause while "out on the cut" using ELESHANNE to raise awareness of Anne's Wish and Inclusion Body Myositis, and our main supporters, Aqueduct Marina and Muscular Dystrophy UK."