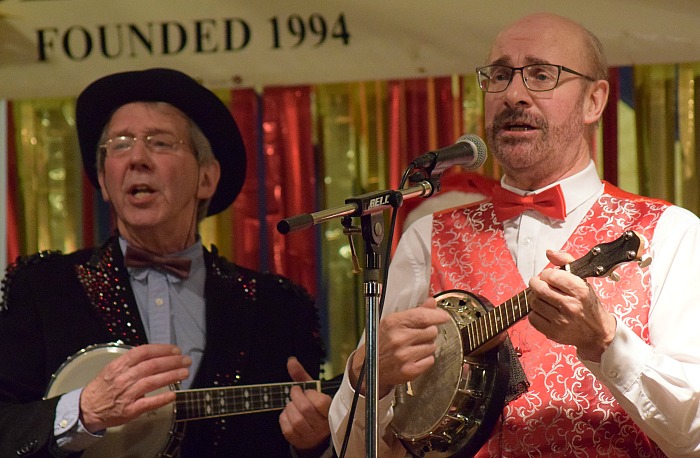 The South Cheshire 'George Formby' Ukulele Society was in fine fettle at its Christmas concert in Wistaston, writes Jonathan White.
The concert at the village Memorial Hall, included group, duet and solo ukulele performances.
It featured George Formby songs including 'With My Little Ukelele In My Hand' and 'The Lancashire Toreador', along with Christmas songs such as 'Blue Christmas' and 'I Saw Mommy Kissing Santa Claus'.
There were moving tributes throughout the evening to Society Founder Brian Edge who died earlier in the month.
Musicians travelled from Wistaston, other parts of Cheshire and counties beyond.
The final song involved all performers in a thrash to 'Leaning on a Lamp-post'.
Richard Batty was Master of Ceremonies and introduced each act with his usual quick fire repartee. Chris White was the concert producer.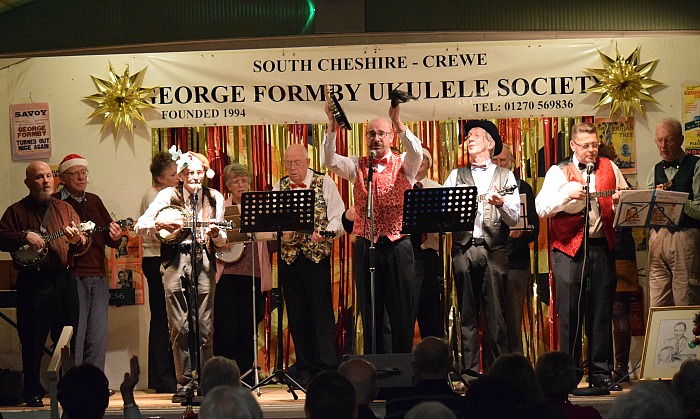 Hot and cold drinks and mince pies were served during the interval. There was also a prize raffle.
The Society was founded by Brian Edge in 1994 and performs a concert at Wistaston Memorial Hall on the fourth Friday of every month throughout the year.
There are no membership fees to attend a concert and the entrance fee is £1 to cover the cost of hall rent and light refreshments.
The curtain goes up at 7.30pm prompt.
The 2017 Friday Concert dates are 27th January, 24th February, 24th March, 28th April, 26th May, 23rd June, 28th July, 25th August,22nd September, 27th October, 24th November, and 22nd December.
The Society is also playing on Easter Sunday April 16 at the annual Nantwich Jazz Festival.
There are also rehearsal sessions, to which new ukulele players are welcome, at Wistaston Memorial Hall on the third Tuesday (7.30pm) of every month throughout the year.
The 2017 rehearsal dates are 17th January, 21st February, 21st March, 18th April, 16th May, 20th June, 18th July, 15th August, 19th September, 17th October, 21st November, and 19th December.
For details contact Secretary D. Dodd on 01270 581920 or email [email protected]
(Pics and words by Jonathan White)