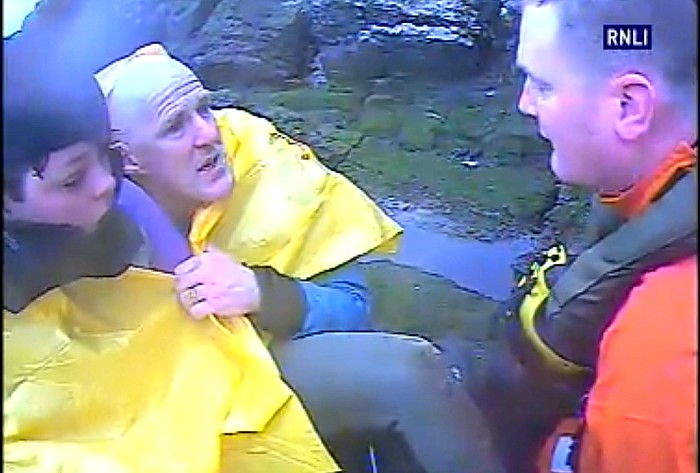 A firefighter owes his life to his 13-year-old Nantwich son who gave him CPR and the kiss of life during a dramatic incident at sea off Anglesey.
Young Joe Rowlands, of Snowcrest Place, Stapeley, was kayaking in Ynys Dulas off Lligwy beach with his dad Paul when their sit-on kayak started taking on water.
The drama unfolded when they capsized about a mile from shore, and despite several attempts Paul could not right the kayak.
Paul, 50, turned it over so it became more stable and Joe could sit on top while he attempted to kick his way to shore dragging the kayak with him.
But after what seemed like half an hour the dad realised that they hadn't moved.
The 50-year-old station manager with Cheshire Fire and Rescue Service said: "I realised our only chance of survival was to leave the craft and swim to a rock that was sticking out of the sea half way between us and the shoreline, which was half a mile away.
"I was just thinking about keeping Joe safe and knew we needed to rescue ourselves and quickly. The sea was calm but extremely cold.
"Joe said he thought we were going to die and his final wish was a kiss from me.
"Although I reassured him we were going to be fine, the thought also crossed my mind and I literally feared for both our lives."
The pair set off swimming, but due to hypothermia and exhaustion, Paul passed out several times.
At one point he saw his son on the rock in front at around 60-100m away. His last memory is thinking that Joe was safe.
That's when Joe launched his miraculous life-saving mission.
The 13-year-old jumped back into the sea, swam to his 15-stone dad and dragged him to the rock where he managed to get him out of the water.
He started chest compressions on his unconscious dad and after water gushed out of his dad's mouth, he then did mouth to mouth, followed by more compressions with more water coming out.
On the next set of mouth to mouth Paul came round.
Joe took control of the situation and urged his dad to stay awake and together they made their way from the rock to an island with a disused open tower previously built for shipwrecked sailors.
They took shelter and Joe talked constantly to keep Paul conscious, asking random questions about family members, what they do and where they are.
Scratched and bruised from the rocks and their ordeal, the pair huddled together in the tower for shelter.
After two hours and a half, the coastguard arrived after being alerted by wife and mum Julie Ann on shore.
She arrived at the shoreline to see the pair being winched into a helicopter.
The dad has kayaked off this coast for many years and swims in the sea regularly.
The pair rock climb and mountain bike together so are physically fit, which almost certainly helped them survive the ordeal.
They were both rushed to hospital, where Paul was found to have a core temperature of 33 degrees and his heart was in AF when he arrived in A and E.
It was only later that Paul realised exactly what his son had done for him to keep him alive.
Paul added: "I would like to thank the RNLI for coming to our rescue that day.
"Without this resource both myself and Joe wouldn't be here today so I can't thank them enough.
"Joe also saved my life that day and was extremely courageous in a life and death situation.
"As a reward I bought him the phone he'd always wanted, but I know I can never really repay him for saving my life and I'm extremely proud of him."
Watch a video of the dramatic RNLI rescue, here https://www.rnlivideolibrary.org.uk/play/AQRgroc9