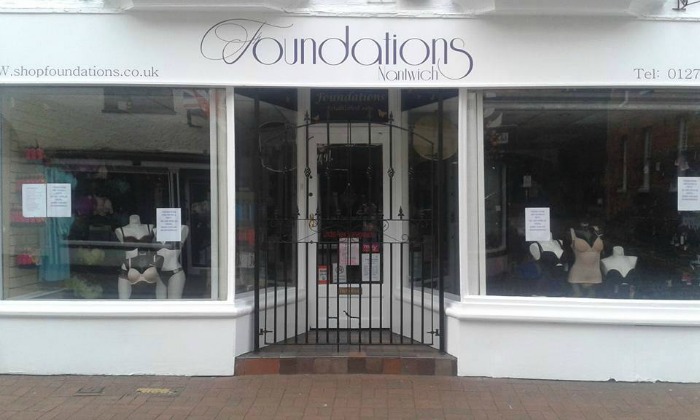 Popular Nantwich store Foundations has been shortlisted in the national High Street Hero Small Awards.
The awards honour local businesses with their heart in the high street, who are active members of their community and have a proven track record of contributing to the success of their street.
Foundations, on Hospital Street, sells lingerie, swimwear and nightwear for ladies and has boomed since it was taken over in 2015 by current owners Karen Flannery and Kate Hinton.
The former primary school teachers have also expanded the business into Congleton, where they took over the well established Cheshire Lady store.
Foundations is one of five finalists in the small store category, with other businesses shortlisted from Manchester, Bewdley, Oldham and Stockton-on-Tees.
The awards received a record-breaking number of entries from businesses.
The winners will be announced on May 17 at a black-tie event in London.
Richard Davies, of award sponsor TSB, said: "There are 5.7 million hard working small businesses in the UK.
"They sit right at the heart of their local communities – helping to fuel both their local economies and the UK economy overall.
"I've always been inspired by the capacity of small businesses to ride the economic waves, create jobs and serve local communities.
"They are Britain's unsung heroes – so I'm delighted to be joining forces with The Small Awards to celebrate this year's High Street Hero."
The Small Awards were founded by Michelle Ovens MBE, who is behind a number of national small business campaigns including Small Business Saturday, Do It Digital and F:Entrepreneur.
"Small businesses are the heart and soul of our communities," said Ovens.
"Giving small businesses a platform to showcase their product or service as well as connect with fellow business owners is imperative to helping secure the future success of our local economies and create and maintain a healthy business landscape."
There are 12 categories including Digital Star; New Kid On The Block; High Street Hero (sponsored by TSB); best social enterprise; supply chain management; sole trader; and multi-channel expertise, as well as the big one, the Small Business of the Year award.