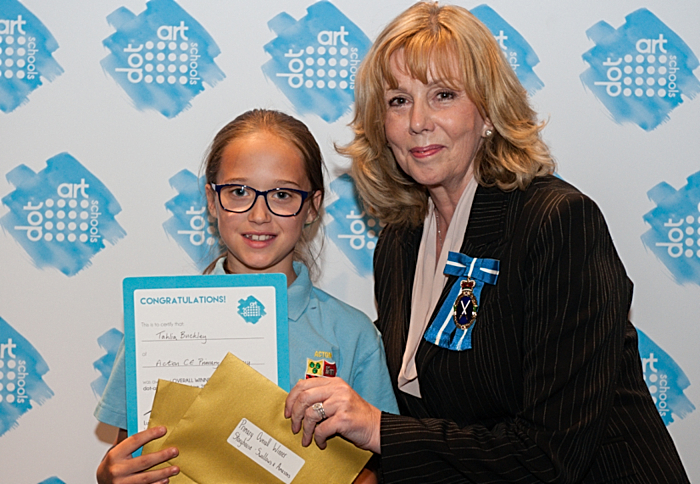 A talented youngster from Acton in Nantwich has scooped top honours in a regional school arts competition.
Tahlia Buckley (pictured), a Year 5 student from Acton CE Primary Academy, was crowned alongside Pranathi Tulasi from Chester as overall winners of the dot-art Schools competition.
They won from a field of almost 300 pupils from schools across Cheshire to be named the area's best young artists.
Tahlia's dynamic acrylic painting of a volcano and crashing waves, entitled Tahlia's Great Wave, featured alongside other shortlisted artworks in the second annual dot-art Schools Cheshire exhibition.
Entrants are asked to produce a piece of 2D or 3D artwork on any theme.
Schools submit up to 25 student pieces of art which were shortlisted by a judging panel made up of well-respected arts and cultural institutions including National Museums Liverpool and LJMU Liverpool School of Art & Design.
More than 3,000 members of the public then voted online for their favourite piece of work from each school to win a place in the exhibition.
The overall winners and runners-up for primary and secondary categories were chosen by guest judge Una Meehan of the Philip Barker Centre for Creative Learning, in University of Chester.
Tahlia won the Year 5 category and was presented with prizes donated by Cass Art and afternoon tea for two at the Townhouse Hotel, Chester.
Dot-art Schools project manager Carolyn Murray said: "The standard of work was outstanding again this year and it's thrilling to see we have so many talented young artists in the region.
"Not many young people get the chance to have their artwork displayed in a public exhibition so everyone who was shortlisted should feel very proud.
"The exhibition is a fantastic opportunity for the public to check out the best work by some of the region's rising stars."
Registration for next year's dot-art Schools competition opens in September.
For details visit http://schools.dot-art.com or contact Carolyn Murray by emailing [email protected]