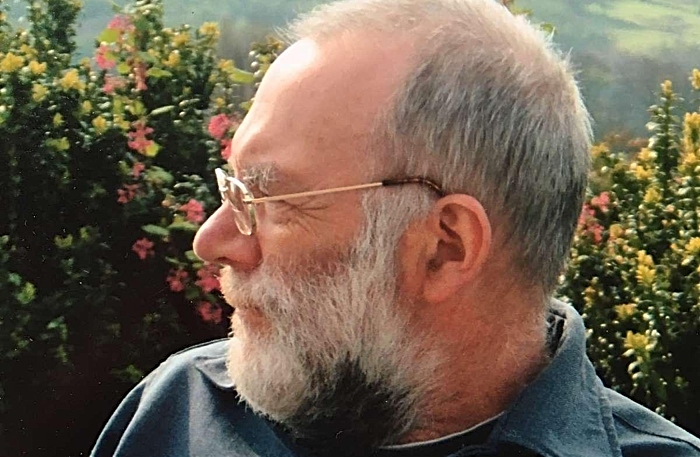 Three generations of the same family tackled the 34-mile Sandstone Trail in memory of a Nantwich lecturer who died from dementia aged just 69.
Simon Goodwin's family were joined by friends and dogs on the two-day walk in August to raise money for Alzheimer's Research UK.
Maths lecturer Simon was diagnosed with dementia in 2015 and passed away in November last year.
Evie, Laura and Emily Jones, Simon's grandchildren who attend school in Whitchurch and live nearby, organised the event and have so far raised more than £2,300 for Alzheimer's Research UK.
The money will go towards pioneering work across Britain, focusing on preventing and treating dementia, while raising awareness of the condition.
Simon loved walking, birdwatching and reading – as well as watching football and cricket.
After moving to Nantwich to be closer to his grandchildren, he helpied them with their maths homework and taking them out to spot local birds and wildlife.
But dementia quickly robbed Simon of the ability to enjoy the things he loved.
It became impossible for him to live at home with wife Sarah, whom he had ceased to recognize after 45 years of happy marriage.
He was cared for at Belong, in Crewe, where the care was superb.
Sarah, who is also now an Alzheimer's volunteer, said: "It's wonderful that the girls organised this in memory of their Grandpa, and it's particularly appropriate as he loved walking and the outdoors.
"We all miss him still so much but it is great to be able to do something to try and help others affected by this awful disease and hopefully help find a prevention or cure."
Alzheimer's Research UK powers studies focusing on prevention, diagnosis and treatments for dementia.
There are 850,000 people living with dementia in the UK. This number is expected to rise to more than 1 million by 2025.
Gillian Edwards, North West Regional Fundraising Officer, at Alzheimer's Research UK, said: "We're so grateful to the team for supporting Alzheimer's Research UK.
"Dementia affects a huge proportion of the population – one in three people over 65 in the UK will die with some form of the condition. Fantastic fundraising efforts like this will help us to defeat dementia sooner."
To sponsor the team visit www.uk.virginmoneygiving.com/Team/ThreegenerationswalkforDementia
For further information about Alzheimer's Research UK, or to find out more about fundraising for the charity, call 0300 111 5555 or visit www.alzheimersresearchuk.org