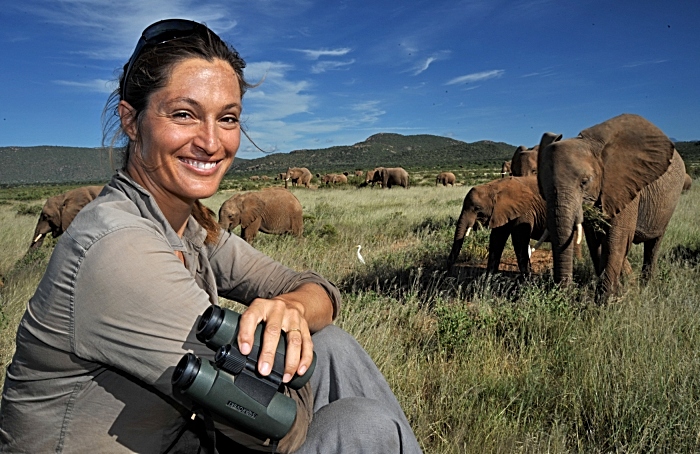 Elephant conservationist Saba Douglas-Hamilton will be at Crewe Lyceum in April to perform her UK show, "A Life with Elephants".
Saba tells stories of her life and highlights from her decade as a BBC wildlife presenter while emphasizing the important role each of us can play in protecting the natural world.
She will captivate audiences with stories of her life and work in Kenya, where she lives with her husband and three children, growing up among elephants and later working with some of the most endangered wildlife on the planet.
While sharing remarkable tales from her childhood in the Great Rift Valley, highlights from her decade as a BBC wildlife presenter, and the adventure of raising her own children in the wild, her underlying message emphasizes the role each of us can play in protecting the natural world.
Saba Douglas Hamilton – A Life with Elephants comes to Crewe on Sunday April 14 at 7pm.
Meanwhile, after a sell-out run at Edinburgh Festival Fringe, Jack Barry is embarking on a UK tour with his latest saucy show, Tango, and will be performing in Crewe.
Barry will be getting up close and personal with his show in the intimate Lyceum Studio on Thursday February 28, at 7.30pm.
The self-titled 'most famous comedian no one's heard of' can soon be seen on The Russell Howard Hour (Sky One), while his other credits include Catastrophe (Channel 4), BBC Radio 4, Channel 5 and ITV2.
He is a regular writer for Mock the Week, and has toured with the likes of Russell Howard, James Acaster and Joe Lycett as well as featuring on Roast Battle at the Comedy Central Festival.
And on March 5 and 6, after an incredible three decades of touring, the UK's No.1 Rock & Roll variety production "That'll Be The Day" returns to Crewe Lyceum with a new show.
Originally established on the cabaret circuit in the late 1980s, the show began playing regional theatres in the early 1990s.
Now it performs more than 200 shows a year to capacity audiences across the UK.
Trevor Payne (who first created the show back in 1986) still directs, produces and stars in the production today.
"That'll Be The Day" are supporters of Make-A-Wish UK – the charity which grants magical wishes to children and young people fighting life-threatening conditions.
This year they're celebrating 30 years of granting magical wishes and now entering its third year of collecting have raised over £250,000 in donations.
For details of these shows and more, visit www.crewelyceum.co.uk