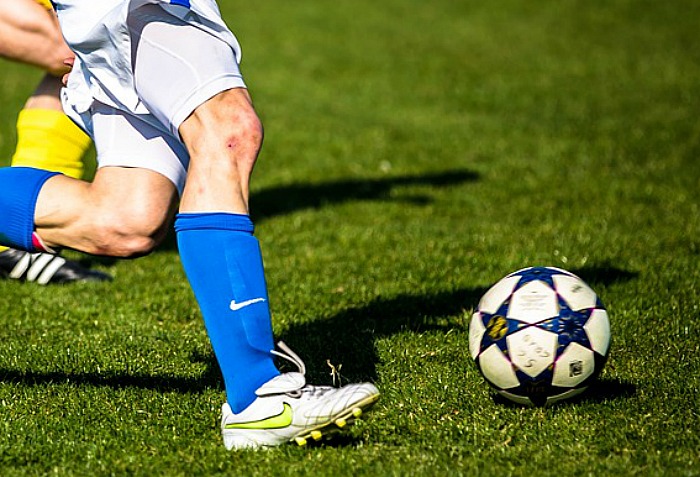 Crewe Athletic maintained their 100% record in the Crewe Regional Sunday League Premier Division with a 2-1 win over White Lion Ford Lane.
Jordan Amson put Athletic ahead with a 2nd minute penalty, but a powerful header from Ben Durkin after 15 minutes levelled the scores.
White Lion Ford lane were reduced to 10 men after 30 minutes following a sending off but seemed set to achieve a highly creditable draw before Jordan Amson netted a very late winner for the home side.
A competitive match was refereed extremely well by Winsford official Marcus Hawkins.
Faddiley appeared to be heading for victory when they led NHB 4-2, but the visitors staged a remarkable comeback on a difficult pitch to win 4-5.
Will Emerton (pen), Chris Stokes, Callum Hassall and Adam Newton scored for Faddiley with Adam Williams, Andy Ward, Frank Farrington, Dan Ball and Nick Ball on target for NHB.
Betley went down 0-3 at home to Salvador, whose marksmen were Lee Mellor (2) and Wayne Beggs.
George and Dragon stay in top spot after hitting a remarkable 14 goals past Elworth Park Rangers.
Robbie Hatton (6) Liam Collins (5), Ricky Macalease, Connor Hooks and Dean Rigby scored with Lee Saxton getting a consolation goal for the visitors.
In Division One, the leaders Old Star had a 7-2 win at Sandbach Town.
Sandbach scorers were Jamie Knowlson and Alex Davies with Old Star scorers Jamie Cain, Matty Davies, Terry Cain (3) and Tom Taylor (2).
The Nantwich derby between AFC Talbot and Nantwich Pirates produced 12 goals, with Pirates coming out on top with a 5-7 victory.
AFC Talbot were unlucky to lose their goalkeeper with an injury after only two minutes.
David Johnson (3), Tom Butler and evergreen Paul Bowker netted for AFC Talbot, with Gary Gordon (3), Brandon Broadhurst (2), Sam Cadwallader and Wayne Garnett on target for the Pirates.
The other match on Barony Park also featured 12 goals, with White Horse beating Broadhurst FC 7-5.
White Horse led 7-3 at half-time, with goals from Ken Mather (5), Ethan Roberts and Johnny Parkes.
Danny Griffiths (2), Danny Martin (2) and Jack Glimond scored for Broadhurst FC.
Audlem just edged newcomers C & N United to win 1-0 thanks to a Ben Spruce goal.
Bridge Inn move into second place in the table after beating Sydney Arms 5-2.
Owen Porter (2), Andy Tebay, Curtis Rodgers and an og netted for the home team, with Rob Prince and an own goal on target for Sydney Arms.
Prince Feathers are still looking for their first points of the season after going down 3-7 at home to Talbot.
John Mowatt, Ethan Stockdale and an og netted for the home team, with Jordan Cotterell (4), Joe Goodier, Brandon Grindley and yet another own goal on target for Talbot.