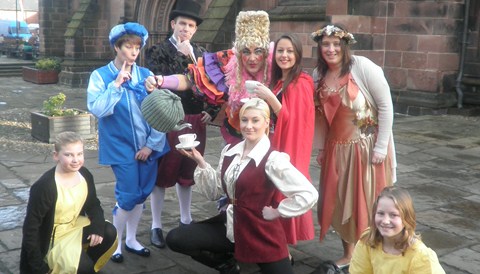 Shavington Village Festival Committee chose Valentine's Day to launch their 34th pantomime Little Red Riding Hood at Shavington High School, writes Sarah Egerton.
Penned by Norman Robbins, the five-day performance saw wolf Lupus Rex return to pursue Little Red Riding Hood, thankfully protected by a Fairy who has warned off the evil wolf.
But of course the temptation is too great for the furry fiend with his mischief to cause mayhem and a hunger for human flesh.
Gary Edwards, as Lupus Rex, stole the show with his flowing locks, furry hands, sinister presence and boomtastic entrance.
Even the young dancers on stage with him jumped when he started to speak and they knew what was coming!
For regular fans of the annual Shavington Panto, the show starred many familiar faces, including Megan Sheer in the heroic role of the prince, a far cry from her brilliantly wicked Queen Evilenia in last year's production of Snow White.
Megan has great stage presence, effortlessly knocking out a stream of magnificent vocal solo performances.
Adam Goode was a fabulously arrogant Sir Jasper de Vyle, sporting the best moustache in Cheshire.
And Nigel Walters, firmly established as the best (and tallest) dame this side of the Weaver, played the glam gran in a non-stop blur of big hair, colour and fabulous frocks (we especially loved the leopard-skin picnic number).
With his adorably dopey faces Richard Kinsey as Bobby Shaftoe was as funny as ever and sixth form Malbank School performing arts student Megan Iredale managed her first lead role as Red Riding Hood with aplomb.
Tracey Carter and Linda Green served up the slapstick as Hustle and Bustle and Rachel Hadzik was a reassuring woodland fairy.
Shavington's signature spooky dance scene once again stands out as a highlight of the show with a dancing wolf, cuddly sheep and a particularly moreish Duran Duran number.
There were lots of well know tracks with fantastic choreography and dancing from the youngsters – and a handful have Broadway potential.
All the children in the audience were invited up on stage for the final song and my daughter even got a special rendition of Happy Birthday which she will treasure forever.
The only thing that could be improved is the length – almost three hours is too long and a little over-indulgent – knock it down to two and it would be perfect.
While thoroughly entertaining and a much-loved annual event, Shavington Panto's key feature is its community spirit.
There is a vibrancy surrounding each production which easily encompasses several generations of locals.
Even as an audience member you feel part of something big and very cuddly (as long as you keep out of reach of the hungry wolf).