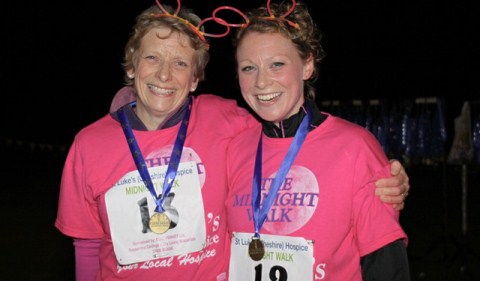 Nantwich women can now sign up for 2012 Midnight Walk to help raise money for St Luke's (Cheshire) Hospice.
The walk, the eighth to be held in the region, takes place on Saturday June 9 through Crewe and Nantwich.
And fundraisers at St Luke's are preparing for another bumper number of participants.
The walk, which has grown massively since its launch in 2005, starts at midnight and will see around 1,700 women cover 13.1 miles.
Due to its popularity, this year's route has been reversed to accommodate registration, parking and facilities for walkers so will begin at MMU's Crewe campus.
Jane Thompson, head of event management, said: "St Luke's was inspired to launch the ladies only Midnight Walk by a former patient of the hospice, who was suffering with breast cancer.
"It's definitely a challenge, as 13.1 miles is a long way. But it's a lot of fun and a different experience for everybody."
It attracts people of all ages, with the youngest walker just seven years of age and the oldest walker to date being 84.
One walker came all the way from Germany to take part.
There is also the Half Moon version of the walk, at 6.5 miles, for those not able to complete the 13 miles.
St Luke's hopes to raise more than £250,000 which will help fund the facility which costs £6,200 a day to run.
To sign up you can register at www.midnightwalk.co.uk or call 01606 555 688.