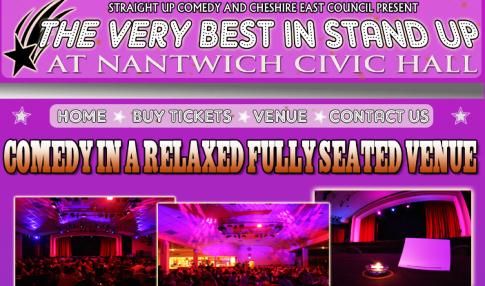 Four fabulous comedians entertained a packed Nantwich Civic Hall at the latest Very Best in Standup live show.
Top acts from across the country and beyond gathered in Nantwich to deliver a class night of comedy.
And final act Malawian Daliso Chaponda probably delivered one of the funniest finales seen during these monthly series of shows.
Daliso, who hit the headlines by risking jail with his "Antisocial Commentator" tour in Malawi and Zimbabwe, produced a 30-minute blend of political and social satire, cutting observation and blue humour which would be difficult to rival.
With perfect timing and brilliant body language, he brought the house down.
Earlier, the crowd had been warmed up nicely by larger than life compere Andre Vincent, with his amusing take on life and classic anecdotes.
Liverpudlian Neil Fitzmaurice was first on stage. His fast-paced performance and quick-fire gags were a perfect combination to get the ball rolling.
Neil, who co-wrote the legendary "Phoenix Nights" with Peter Kay and Dave Spikey, wasn't afraid to poke fun at his own city, or provide amusing spins on real life stories such as the hilarious 'Manchester girls on the train' tale, and the great 'double tap' gag.
Watching the second act Mike Newall for the first time, it was easy to see why he'd been such a hit at the Edinburgh Festival.
His success is built on classic timing and a dry, deadpan delivery – minimal fuss for maximum hilarity.
Vincent linked the acts together nicely, even reflecting amusingly on the interval bar/toilet rush!
But it was Daliso who stole the show and left the sell-out audience already booking tickets for the next one on April 13.
Another 'double tap' on the back for the promoters!