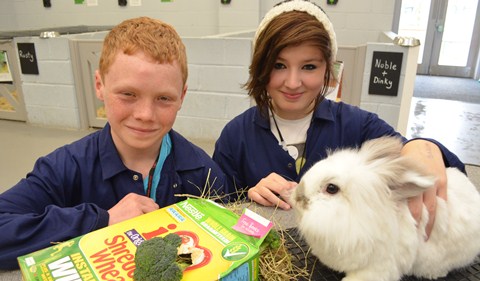 Reaseheath College's rabbits and guinea pigs should be jumping with joy after students made special toys to keep them entertained.
Animal management students at the Nantwich college have created enrichment boxes for the bunnies from cereal packaging and kitchen roll tubes with hay, shredded paper and healthy treats.
The project aims to encourage animals to search and forage to avoid boredom.
Students, joined by pupils from local schools, saw how simple measures can keep rabbits and guinea pigs mentally and physically entertained.
Keeper Emma Hunt: "Rabbits are the third most popular pet but can often be neglected by being put in a hutch at the end of the garden and forgotten about.
"It is important they are fed the correct diet, have somewhere warm to sleep, company form another rabbit and enough space to stand on their hind legs and hop around.
"Conventional hutches often do not have enough space to allow this and, even when they do, the animals can still become bored. It is very important to keep them entertained and to try to encourage natural behaviour."
Dominic Henson, 14, a pupil at Shavington High School, and Abi Duncan, 14, of Ruskin Sports College, were involved in the project.
Dominic said: "I think giving the rabbits things to do is a very good idea. I think they could get very bored just sitting around."