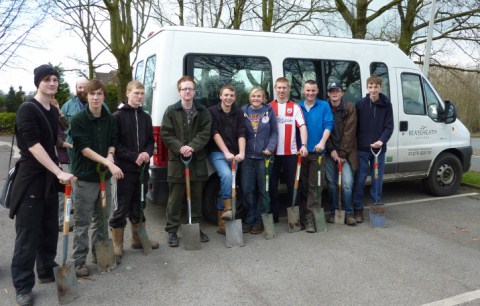 College students in Nantwich have planted thousands of bluebells to mark the Queen's Diamond Jubilee celebrations.
Ten students from Reaseheath College planted 5,000 bulbs alongside the Crewe to Nantwich Greenway in Wistaston.
The bulbs, which will flower in time for the celebration, add to hundreds of young trees planted in the same area by fellow students.
Both the trees and bluebells were supplied by the Rotary Club of Crewe & Nantwich Weaver.
The group acquired the trees in a Community Tree Pack from the Woodland Trust, which is giving away free trees as part of its Jubilee Woods project to mark the Queen's 60-year reign.
The group also plans to plant a Royal Oak sapling – grown from an acorn gathered from a royal estate – in Church Square, Nantwich town centre.
Rotary Club community and vocational committee chair Neil Brown said: "The main objective of Rotary is service – in the community, in the workplace, and throughout the world.
"Given the great Royal tradition in the area, it's great to be able to mark the Queen's Diamond Jubilee in this lasting way."
The planting project is on land owned by Cheshire East Council, near to the Rising Sun public house.
It's part of the Crewe-to-Nantwich Greenway corridor linking Nantwich's riverside walks with Crewe's Queen's Park along the A530 corridor.
The project, which should be completed in summer, is aimed at offering cyclists and walkers a traffic-free link between the two towns.
(Pic: Reaseheath College students prepare to plant thousands of bluebell bulbs)